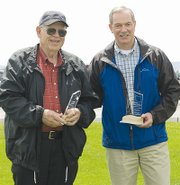 Yesterday (Thursday) the Port of Sunnyside hosted its annual industry appreciation barbecue and recognized two long time business men, who have been instrumental in the port's endeavors.
Engineer Vern Anderson and Lawyer Steve Winfree were honored at the event and each was presented an award for their continued work for the Port of Sunnyside.
Anderson, shared Port Commissioner Jeff Matson, engineered and designed the district's first wastewater treatment facility.
Winfree has served in a legal capacity, providing the Port of Sunnyside with legal and financial advice.
Both men have worked with the port since the 1970s.
"They are always there to help the port move forward...they always have the port's best interest at heart," shared Matson.
The barbecue celebrated the port district's 46 years of history. Representatives from the offices of U.S. Senator Patty Murray and Congressman Doc Hastings were present, as was Washington State Representative Bruce Chandler, the Miss Sunnyside court and various other dignitaries from the community.
After the brief ceremony, those enjoying the day out were treated to hamburgers, fresh fruit and time spent together.
The Port of Sunnyside also invited its guests to tour the wastewater facility, which treats water from the various industries in Sunnyside.