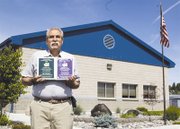 Every hour of every day and every night, unseen people are working to protect the health of our waters and the water we drink.
They are Washington state's wastewater (sewer) treatment plant operators.
Recently, the state's Department of Ecology recognized 87 wastewater systems in Washington that had a perfect track record in 2009.
Of those, three were in the Lower Yakima Valley; Sunnyside, Granger and Grandview.
The award-winning plants passed all environmental tests, analyzed all samples, turned in all state-required reports and avoided permit violations during 2009.
For Sunnyside, it was the third year in a row to earn the perfect award and fourth in the past five years.
Grandview's award for 2009 marked the third for the that city in the past four years.
Granger's award marked the second year in a row to receive the perfect score.
"Some people may take this work for granted, but we don't," said Kelly Susewind, manager of the state's water quality program. "These skilled and dedicated professionals in communities around our state get it right day in and day out, making sure wastewater is properly treated and discharged. Perfect compliance is a significant accomplishment, even more so considering our growing population and the economic struggles currently facing these communities."
The state's operator certification program and state financial assistance keep the program going strong. The Department of Ecology is offering approximately $85 million in grant and loan funding for wastewater treatment facility projects for fiscal year 2011.
In 2010, Washington plants received $50 million in federal American Recovery and Reinvestment Act funds and $46 million in State Revolving Fund loans.