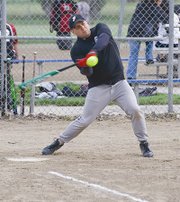 With a pair of wins this week, the New Era team maintained its perfect start to the Lower Valley Men's Softball Association's 2010 season.
New Era played the SCH/SFD team on Tuesday this week and prevailed in a doubleheader sweep.
Scores weren't available for the games, but SCH/SFD's Damian Ramos in the losing effort went 3-4 at the plate.
With the pair of victories, New Era improved to 4-0 on the season.
In other action this week, Team Impact/El Valle (TI/EV) and Wild Boyz split a doubleheader on Tuesday. TI/EV won the first game 8-4 and lost the second 6-3 to the Wild Boyz.
Dave "Chief" Palomarez was 5-7 for the day with two home runs for TI/EV, and teammate Gilbert Briones was 4-4 in the game one victory.
An early challenger to New Era's fast start is the SL/D team, which improved to 5-1 with sweeps over the Krush and SCH/SFD.
While SL/D pitcher Jeff Bentley handcuffed the Krush on Wednesday night to just five runs combined in leading his team to 11-2 and 11-3 victories, Bob Sarmiento Jr. delivered at the plate for SL/D with a 6-7 day.
Other hitting stars on Wednesday for SL/D were Russ Bentley (5-8 with a home run) and Tony Gonzalez (4-6).
SL/D extended its win streak to five games last night, Thursday, with the wins over SCH/SFD. Dave Sanchez, Tony Gonzalez and Sarmiento all homered in the 20-5, 19-0 sweep.
SL/D, the LVMSA's defending champs, will take on early frontrunner New Era next Thursday in a key league match-up.
LVMSA Standings
New Era 4-0
SL/D 5-1
Krush 3-3
Wild Boyz 3-3
TI/EV 3-3
SCH/SFD 0-6
NOTE: Standings, stats and scores are presented as reported by LVMSA coaches.