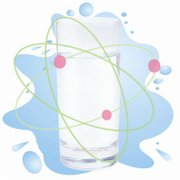 Wells in use for Sunnyside's drinking water meet quality criteria under federal guidelines.
That's according to a report for 2009 the city recently published.
According to the report published by Jim Bridges, interim city manager/public works director, all drinking water "may be reasonably expected to contain at least small amounts of some contaminants."
The report continues, "The presence of contaminants does not necessarily indicate the water poses a health risk."
In Sunnyside's case, the drinking water is at or below the federal maximum limits for various compounds.
For example, Sunnyside's drinking water has nitrate levels ranging from .521 parts per million for well six to 1.54 parts per million for well eight. The EPA's maximum level of nitrate contamination is 10 parts per million.
An average well's nitrate level is .51 parts per million.
The city's water quality also compares well to federal maximum limits for iron (a range of .12 to undetectable compared to the federal limit of .3 parts per million.
Sulfate, selenium, arsenic and fluoride are other compounds where the city's wells rate strong compared to federal guidelines.
Asbestos, Coliform, E. Coli and Giardia were not detected in the city's water supply.
Sodum is the only compound in Sunnyside's drinking water that comes close to reaching maximum levels allowable under federal guidelines.
The EPA limit is 20 parts of sodum per million, and Sunnyside's levels range from 13 for well 6, to 18 for wells seven and eight and 19 for well nine.
For the purposes of the 2009 report, Sunnyside did not test compound levels for wells five and 10. That's because they are out of service and used only in emergencies. In the event of a water emergency, the wells would have to be tested before they are used for drinking water.
The report also asks Sunnyside residents to help protect the drinking water by addressing cross connections (such as connections between drinking water and an irrigation or lawn watering system) that could potentially allow non-drinking water to backflow into the city's supply of drinking water.
For more information about the report, the city's water quality or water rights call the city's public works department at 837-5206.