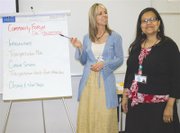 GRANDVIEW - A community forum was hosted by People for People this past Wednesday afternoon, giving community members an opportunity to voice their concerns about transportation needs.
Unfortunately, community members did not attend the forum at the Grandview campus of Yakima Valley Community College.
People for People Executive Assistant Amy Neal said the purpose of the forums is to prioritize the needs among those in the People for People service area. Those needs will be used for the purpose of securing Department of Transportation grant funding.
"We are in a two-year grant cycle...the funding helps us purchase new buses and serve the community members," shared Neal.
People for People, she said, seeks to serve the needs of the community the best way possible.
In 2005 the Safe, Accountable, Flexible, Efficient Transportation Equity Act was passed, requiring communities to develop a coordinated effort to provide the disadvantaged with transportation.
Anyone who is without transportation or the means for securing transportation is to be served under the act. That includes low income, youth, disabled and elderly individuals.
Neal said organizations applying for funding under the act, however, must prove there is a need. An assessment of current services available, the location of target populations, common points of origin and/or destination, gaps in transportation services and prioritization of services must be addressed when seeking grant monies.
The community forums, shared Neal, help People for People with the assessment.
Neal said People for People is seeking funding to assist individuals in traveling throughout the service area for basic needs purposes. The transportation provided gives individuals the ability to get to and from jobs, medical appointments, grocery stores, nutrition programs and more.
Transportation Operations Manager Gracie Sexton said one service provided by People for People is the Pahto Public Passage. That allows youngsters from White Swan to travel to Toppenish during the summer. Those youngsters are otherwise isolated from summer activities, such as the public swimming pool.
"Part of the DOT dollars fund a couple of programs provided by People for People," she noted, stating the Community Connector is one of the programs.
The Community Connector gives those living anywhere from Prosser to Yakima transportation to and from the communities up and down the Yakima Valley, according to Sexton.
She said anyone can call People for People and request transportation. She used an example of a woman whose husband was in a medical facility. The woman had no means of transportation to visit her husband and People for People was able to help her.
"Community members don't realize the buses are for the public and all they need to do is call," shared Sexton.
A quick survey is also being provided at the forums being hosted by People for People. Anyone who missed Wednesday's forum will have the chance to voice the needs of the community at one of seven more forums.
Next Wednesday, June 9, at 1:30 p.m. a forum will be held at Noah's Ark, located at 117 East Second Street in Wapato.
A forum in Toppenish is slated for Monday, June 21, at the Eagle Seelatsee Room at the Yakama Agency from 11 a.m. to 1 p.m., and in Naches on Friday, June 25, at the Naches Depot beginning at 9 a.m.
Final approval is still being sought for a forum in Mabton, but People for People will be hosting one there either July 1 or 8.
July 7, those willing to travel to Union Gap can meet with the representatives of People for People at the Youth Park Barn at one of two meetings. The first will be held at 10:30 a.m. and the second will take place at 5:30 p.m.
Two forums are also planned in Yakima and a forum is being set up for the community of Granger, as well.
Neal said anyone needing further details about the forums or how they might be able to help People for People write the plan needed for the transportation funding can contact her at 509-248-6726 or via email at aneal@pfp.org.