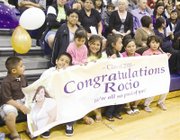 MABTON - The Mabton class of 2010 had a motto that seemed to ring true throughout last Friday night's graduation ceremony.
"We came here as strangers, we stay as friends, we leave with memories that will never end."
Mabton High School's gymnasium was packed with family and friends of the graduating class. The 60 graduates entered the gym two-by-two and took seats on bleachers, each wearing their purple gowns and caps.
Jay Tyus, Mabton High School principal, welcomed everyone gathered and introduced Marco Chavez, the class of 2010 salutatorian.
Chavez admitted to being upset at having become salutatorian, knowing he'd have to give a speech. "But there was no getting away," he conceded.
In English and Spanish, Chavez thanked parents and teachers for their support and guidance through their high school education.
Mayra Reyna delivered her valedictorian speech in Spanish. She told her fellow classmates to be true to themselves and believe in what they can do.
Elementary school was easy, she said, but we should not want to go back. Because of everything we've accomplished, the present is the best place to be, she said.
The class guest speaker was teacher and track coach Scott Sexton.
Sexton took his time to evoke fond memories of the class of 2010, which included his daughter, Victoria Sexton. He personally addressed many of them, recalling how they grew into adults as they passed through high school.
"A journey of a thousand miles begins with one step," Sexton said, noting that graduation was but a single step in their thousand-mile journey.
The class slide show presentation inspired both laughs and tears as students, parents and friends were given an opportunity to see the class of 2010 evolve over their lives. From childhood to high school, each student had their moment of recognition in the slide show.
Retiring Mabton Superintendent Sandra Pasiero-Davis presented the graduating class to those gathered before the students received their hard earned diplomas.
Before dismissal, Mabton High School teacher Mike Surmeyer shared a poem with the class. "It's when things get worse, you mustn't quit," he said before concluding with, "Stay the path. You are all winners. Congratulations."
After the ceremony friends and family met the happy graduates on the Mabton High School football field. Hugs, tears and photos were rampant, but graduate Margarita Gutierrez found the time to offer this advice about high school to an underclassmen, "Enjoy it cause you're gonna miss it."