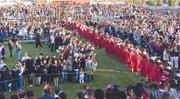 The Sunnyside High School graduating class of 2010 went out in style this past Friday evening, during an evening full of pomp and circumstance, as well as laughter, song and even a rally cheer.
The light-hearted tone was set with the speech by co-salutatorian Jennifer Crane, who interspersed her humorous anecdotes with song.
Faculty speaker Stacy Alseth kept the celebratory mood going by leading graduates in an SHS rally cheer that filled Clem Senn Field with Grizzly love.
That loyalty was highlighted in remarks by valedictorian Eric Desmarais. "I love this city, I love this school district," he said. Desmarais, who also brought laughter to the proceedings, encouraged his classmates to look for the positive in each other and their community.
The graduation ceremony went beyond love, loyalty and laughter, though, as speakers challenged the class of 2010.
Desmarais told his classmates to consider the "power of your choices."
Co-salutatorian Katie Herndon, meanwhile, encouraged graduates to learn from mistakes, both theirs and by others.
The rally-leading Alseth motivated students to have faith in themselves and in their future.
The class of 2010 also gained insight from this year's Sunnyside Wall of Fame honorees, Doug Seebeck (1974) and Mario Villanueva (1969).
Seebeck urged grads to pay attention to their dreams and to live their lives as servant leaders.
"Be mindful of the special folks in your life," were Villanueva's words of wisdom to the class of 2010. "Always put family first."
The 280-plus graduates in the Class of 2010 made it the largest in Sunnyside High School history.
All of which made Friday's celebration an even larger reminder of the passage of time, of transition ahead for the graduating seniors.
It wasn't only the students who were marking a transition, though, as Principal Brian Hart was also feted in the graduation ceremony for five years at the post.
Superintendent Dr. Rick Cole told the crowd that Hart "is one of the most successful principals in Sunnyside High School history."
Ironically, Hart has to leave the principal's post due to poor graduation rates addressed in a federal grant awarded to the district.
By and large, though, the focus of attention on Friday night was the class of 2010's advancement into the "real world."
With a smile on her face, Crane was ever-mindful of the transition she and her classmates are facing. During her speech she added a musical perspective to the new life ahead for graduates.
"This is the closing of a first verse and the opening of a second verse," Crane told her fellow graduates. "Create your own melodies."