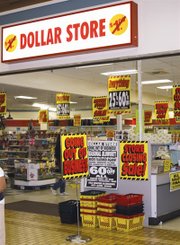 For the next month, shoppers at the Mid-Valley Mall will be able to catch bargains of a lifetime as the Dollar Store prepares to close its doors.
All 37 Dollar Store locations across the Pacific Northwest, including two in Yakima and two in the Tri-Cities, are preparing to close after news came that the chain will be going out of business.
Leticia Alvizo, Sunnyside's Dollar Store manager for the past nine years, said the news came at the end of April.
Alvizo and her employees were surprised by the decision of the company's owners, Gary and Arlene Woodring, to close the chain. She said the pair, who are looking to retire, were close to selling the stores but the deal fell through.
For now, the six Sunnyside Dollar Store employees are looking for new employment as the store closes down.
The Sunnyside Dollar Store has been a staple in the Mid-Valley Mall since it opened 10 years ago.
The store, which sells products from decorations and gift bags, to food and house ware, is expected to close its doors sometime in the next month.
For now, everything is on sale at the store. Customers can purchase the already bargain goods at 25 to 60 percent off.
But when they say everything must go, they mean everything. The store is also selling company shelves, desks, chairs and even semi-trucks.
Hilco Merchant Resources out of Northbrook, Ill. is handling the liquidation.