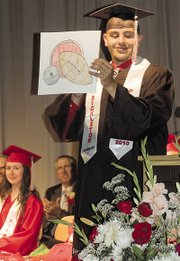 BICKLETON - Families and friends of Bickleton High School's nine graduates filled the school's gymnasium to celebrate their achievements in a graduation ceremony held this past Saturday afternoon
The graduates entered the gym one at a time; the boys in black, the girls in red, but each carrying a bouquet of flowers they later presented to their families.
After the invocation, delivered by Rev. Jacob Meadows, the graduation ceremony was largely student led. Each graduate got the opportunity to speak to those gathered.
Edgar Molina welcomed parents, friends, school staff and community members before introducing the Bickleton High School class of 2010.
Morgan McBride provided the audience with a history of their class. McBride began with their first year at Bickleton High School, describing their small class and the various students who joined during their time there and those who moved away.
The valedictorian address was delivered by Jessica Cummings. She spoke to her classmates about the climb toward success, noting that they will never be done climbing, but they must leave the road clearer than they found it.
Cummings was followed by Devona Kibby, who gave an emotional delivery of the poem "There is No Future Good Enough."
Holly Goodnight, this year's salutatorian, followed Kibby with a speech that was both inspiring and humorous. Goodnight described writing the speech as, "hands down, the hardest thing I have ever done."
She went on to say, "Just as the force will always be with Luke, just as Superman and Spiderman will always be our heroes, we will always be the class of 2010."
Johanna Jensen read an original poem, entitled "Home," and Nakai Kibby presented drawings of what she thought summed up each of her classmates.
Mariela Macias listed the top 10 things the students will miss after graduation. Included among them were the friendships, BHS in general, each other and teacher Darrell Lang, who Macias joked was a well known retired Soviet Spy.
Macias finished by saying, "Graduation is not a goodbye, but a 'see ya later, buddy.'"
Junior Hernandez then filled the audience in on the future plans of his fellow classmates. Each intends to attend college in the fall.
After the ceremony, the audience filed into the hallway to greet and congratulate the graduates.