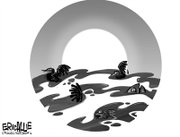 Day 50 of the Gulf oil crisis came and went earlier this week and it's ridiculous to think BP's underwater oil geyser is still spewing the stuff into the U.S. coastline.
Where's the single-minded, nay stubborn, spirit of the Obama administration when we need it?
After all, these are the folks who ramrodded through a health care package no one except the left really wanted.
But they got'er done.
Where's that can-do at all costs attitude now? Instead of poking a finger at oil on the beach as he did in a photo op, we need the prez to throw all his power into stopping this.
BP has had nearly two months to fix the leak and can't get the job done. According to some reports, the British firm can't even get timely payments to those who have lost their livelihoods due to the spill.
Families are in foreclosure because of BP.
It's time for BP to own up, pay up and get its smarmy president to shut up on those ads that show none of the damage caused to lives - both human and waterfowl - in the gulf.
To his credit, Obama has taken the blame for the oily mess...but the time is long past for him to take action and apply a firm hand to the spill and to BP.
Our president and his party are quickly losing any remnant of political capital they may have. It's time to use what's left on getting the gulf cleaned up.
The gulf crisis has become Obama's version of Jimmy Carter's Iran hostage crisis - a weak will revealed.
The way things are going, Democrats stand to lose far more than capital this fall. They may well lose the Capitol to Republicans in the Senate and House.
That's good news for those of us on the conservative side of the keyboard...but it's a shame that this mess is still a talking point into the summer campaign season.
We don't go to the polls until November, though, so in the meantime I'm going to avoid gassing up at BP and its affiliates.
And I'm going to root like mad for the U.S. this Saturday when we play against Britain in the first round of the World Cup.
More like this story