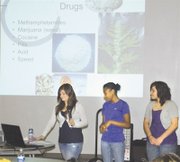 The first step any community must take to solve a problem is to understand it.
Gangs, drugs and alcohol abuse are a major Sunnyside concern, but people often miss early signs that can help prevent these concerns from becoming serious problems.
This past Monday, Sunnyside's Promise partnered with Sunnyside High School's leadership students to bring a little information and understanding to Sunnyside residents.
Raul Abrego, case manager with the Choice Program, and David Hinojosa, case manager at Harrison Middle School, presented information on Yakima Valley gangs.
To begin, Hinojosa revealed an alarming fact. Of the 21 gang related homicides this year in Washington, Oregon, Idaho and Montana, nine of them occurred in the Yakima Valley.
A gang, Hinojosa said, is defined as "a group of three or more individuals who engage in criminal activity and identify themselves with a common name, color, number or sign."
Hinojosa acquainted those present with local Yakima Valley gangs. From Bell Garden Lokotes (BGL), to Tiny Norteno Locos, Hinojosa described the colors, signs, numbers and conflict between them.
A video from nwgangs.com showed how graffiti is used by gangs. Hinojosa said the site has a lot of good information on gangs, but be warned. The videos and graphics on the website are for mature audiences.
Not all graffiti is gang related, Hinojosa said, but there are signs to identify which is and is not.
The color of the spray paint, red, blue or black, is a good indicator it was put there by a gang. The style of writing and crossing out or writing over old graffiti shows marking of territory.
Abrego took the time to describe gang clothing, going over colors, clothing brands and accessories, such as belts and shoelaces, that may identify a gang member.
These are all signs a person may be involved with a gang but Abrego recommends people keep an eye out for risk factors that may lead someone to join a gang.
Children or teens with plummeting grades, keep late hours, defy authority and suddenly change friends are examples of risk factors.
Higher risk factors include kids with gang clothing, knowing hand signs or using gang graffiti.
Abrego said that the severe risk factors may mean a person has been utterly submerged in the gang lifestyle and may never be able to free themselves. These include disclosure of membership and trouble with the law.
There are many different reasons for people joining gangs, Abrego explained, citing a belief they'll receive love, respect, praise, security, brotherhood, power and excitement.
But parents and teachers can help prevent children and teens from going down these paths by simply being aware of what youngsters are doing. Watch what they wear, Abrego said, and know their friends and friends' parents.
Keeping them busy is a good way to keep them out of trouble. Finding teens summer jobs and involving them in the community center is a great way to do just that, he said.
And if parents suspect a problem with their children, there are various community resources they can contact for help, starting with school counselors.
Those in attendance at Monday's forum also received information on drugs and alcohol in a presentation created and delivered by students from Sunnyside High School's leadership class.
Sunnyside High School juniors Mayra Guizar, Keala Drollinger and Rica Parramore listed the four types of abuse: alcohol, nicotine, drugs and inhalants.
They described symptoms and signs parents and teachers can use to identify if a youth is abusing them. They include negative changes in school work, increased secrecy, use of code words when speaking with friends and an increase in borrowing money.
Drugs, they explained, are more than just marijuana and methamphetamine. Prescription drugs are also being abused and the high schoolers pointed out that these are often obtained by simply opening a parent's medicine cabinet.
Inhalants were another important issue. Spray paint, paint thinner, aerosol spray and markers are used by some to achieve a high. But the damage inflicted, usually to lungs and brain, can cause comas or even death.
The students from the leadership class recommend that parents keep items like these away from places where their children can get them.
The valuable information presented at last night's meeting was meant to lead to greater understanding of the problems that plague this community.
This was the first gang, drug and alcohol abuse meeting held at the Sunnyside Community Center, but those who missed the information presented last night may get another chance to educate themselves. Hinojosa explained that Sunnyside's Promise hopes to bring the presentation back during the summer.