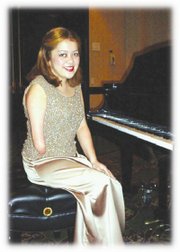 Pianist Mary Grace will be in concert at Sunnyside's Seventh-Day Adventist Church this coming Saturday.
The talented and inspirational musician was born with the absence of a right forearm and her right leg is eight inches shorter than her left leg, but the pianist hasn't allowed that to stop her from doing what she sets her mind to do.
Grace learned the piano, graduated from college and wishes to share the love of Christ with others.
She has been featured at a general conference worship session, on Christian television's 3ABN, on "Really Living" and in the Adventist Review.
Grace has also been featured in other Christian magazines as an inspiration to others.
She will be sharing her music and testimony, as well as the unconditional love and acceptance she found in the Lord.
A love offering will be accepted at the Saturday concert, which will be staged at noon. The offering will support ministries in the Phillipines and other countries.
Sunnyside's Seventh-Day Adventist Church is located at 1875 East Lincoln Avenue.