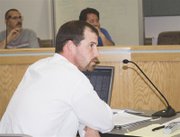 An e-mail scam is now making its way through Sunnyside involving an alleged note from former Sunnyside Councilwoman Carol Stone.
The communication, which uses Stone's actual e-mail address, claims that she is in England for a seminar and needs $2,800 to return home.
Not so, Stone said from her Sunnyside home. "I don't even have a passport," she said.
Stone says she doesn't know how the scammers got hold of her e-mail password, but now she can't even access her own e-mail account.
What is known is that recipients of the e-mail should ignore it and, if they wish, file an informational report with the Sunnyside Police Department.