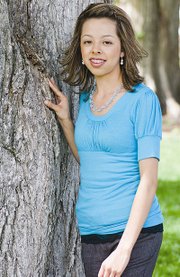 Seeing a need for family-friendly activities, promoting health and fitness for everyone, Jacaranda Garcia developed a desire to seek ways in which she might be able to provide them.
"I am not sure how I will do it, yet. But I think the Miss Sunnyside court could serve as an influence to develop family activities," shared Garcia.
She explained she would like to earn the 2010-11 Miss Sunnyside title to give children and their families a positive role model.
"I think children need more athletic activities and neighborhoods could sponsor block parties with athletic events like sack races and softball throws," Garcia continued.
If selected as Miss Sunnyside she would work together with community members, organizing such events.
Garcia went on to say she would also like to show young girls "Miss Sunnyside isn't just about one's appearance...it's about being involved in school and the community."
She is a member of the student council at Sunnyside High School and wants to focus on working with youngsters at Sunnyside's Washington State Migrant Council pre-school program.
There, Garcia would promote education through a reading program.
"I want to read to them and help them learn to be successful in life," stated Garcia.
She would like to develop a program that uses building blocks to reading. She said her goal is to help youngsters become confident in their reading skills...enough so that she would like to see them read in front of their classmates.
"I think it is important to boost their confidence level," Garcia noted, acknowledging it is a big goal to accomplish.
When asked about her talent to be staged during the Miss Sunnyside Pageant, she said she will be staging a cooking show. She will give a presentation on the proper procedures for baking a special goody.
"I enjoy cooking for others and I want it to be like the cooking shows on TV," Garcia explained.
She is the daughter of Alberto and Maria Garcia. She has an older brother, Juan.
Garcia's goal in life is to attend Gonzaga University and study medicine.
"I want to be a surgeon," she stated, saying her favorite subjects at SHS are math and biology.
Garcia's sponsors for the 2010 Miss Sunnyside Pageant are Fashion Corner and TM Market.