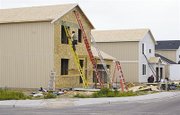 Fueled by eight new homes, the total valuation of all new building starts permitted in Sunnyside last month topped $1.38 million.
The new housing starts accounted for $1.2 million of the valuation and $14,887 of the $18,126 in permit fees the city of Sunnyside received in May.
The new single family housing development under construction by Catholic Charities Housing accounted for four of the new home starts permitted last month. Three of the new houses are on Beckner Alley across from Sierra Vista Middle School and another is on New Life Place.
The four Catholic Charities houses have a combined valuation of just over $540,000.
The largest project permitted last month was a four-bedroom, 2,222 square foot home at 1313 Apple Lane valued at $227,308. The home is one of three new housing starts permitted last month for the Aho Construction development in Sunnyside.
The combined valuation of the three Aho houses is just over $510,000.
There was one other new housing development that received a thumbs up last month from Sunnyside planning officials, a duplex at 1015 S. 11th Street valued at $148,944.
Other work permitted last month included three re-roofing projects and three plans involving new windows.
Aside from new housing, the other sizeable project approved by Sunnyside officials last month involved repairing water damage in the 500 block of East Edison Avenue. The project is valued at $140,000 and resulted in $1,618 in permit fees paid to the city of Sunnyside.