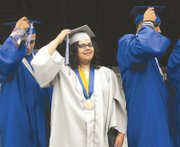 GRANDVIEW - Grandview's Country Park on Thursday, June 3, was filled with family, friends and community members celebrating the graduation of Compass High School's class of 2010.
Fifty-one students received their high school diplomas. Among them were valedictorians Mariela Torres Alvarado and Meagan Michelle Sloan Hickam, as well as salutatorians Christine Lara and Garon Brady Moser.
One more student, Ruben Zepeda Sanchez, was listed among the top 5 percent of the graduating class.