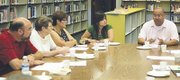 GRANDVIEW - The purpose behind last night's combined school board and city council meeting was easily summed up by Mayor Norm Childress when he said, "We have a great community here."
City of Grandview officials and the school board met to discuss and review their combined efforts to provide for a safe and growing community.
"Our work with the school district and city has never been stronger," Mike Carpenter, head of Grandview Parks and Recreation, said.
He reviewed various programs the school and city work together on, including the Frenzy Friday Program which provides middle school students with activities when school is released early on Fridays.
For the past three years, it was reported, the program has catered to an average of 225 students.
Thanks to a grant secured by Police Chief David Charvet, the program will continue in Grandview.
Much was discussed in terms of training and resources for parents, school staff and community members for becoming mentors to students.
Grandview School Board and City Council members did not shy away from their gang problem. They recognized it and were eager to discuss opportunities for saving children from going down that path in life.
"A kid starts looking at a gang when he stops dreaming," school board chairman Alfonso Contreras explained.
It was stated that the re-establishment of the GREAT program has had a significant impact in making gangs uncool in the eyes of students.
Two other significant influences that can keep students away from gangs, it was pointed out, are parental contact and keeping kids from falling behind in academics.
"We don't need a formal mentor program," Superintendent Kevin Chase declared, "We can all be mentors."
Chase explained that any parent, teacher or community member can pick a couple of children they will talk to every time they see them, build a relationship with and encourage to succeed.
Mayor Childress was eager to build community pride, stating that children need to see adults take pride in Grandview before they will, too.
Carpenter took some time to show the group gathered the Youth Resource Guide.
"This is a response to the statement, 'There is nothing to do in Grandview,'" said Carpenter.
The Youth Resource Guide lists all the activities and events that Grandview offers for its youth. Carpenter said the guide is updated twice a year.
It was also revealed that the city is well on its way to building a community center. A $1 million grant, along with funds from the sale of the existing Carl L. Stevens Senior Center to Yakima Valley Community College, will go toward building the center.
The city is looking to hire an architect by the end of July and the city will include school officials in the planning.
Charvet spoke to the group about active shooter training.
Eighteen officers in Yakima County, Charvet explained, were sent to Seattle for specialized training on how to pursue an active shooter in school.
Since then, every officer in Yakima County is required to attend two days of training in the Yakima Valley.
Within the next three to four months, every officer will be trained for the emergency scenario.
Charvet also revealed that Grandview has the lowest crime rate, per one thousand people, in the Yakima Valley.
"That's something people don't know about our community," he said.