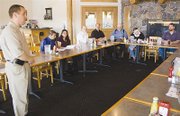 Purchasing health care across state lines, limiting government regulation and a re-evaluation of unemployment benefits and minimum wage are just some of the changes the Washington Policy Center is seeking on behalf of small business.
Chris Cargill is the non-profit think tank's office director for eastern Washington, and late last week he outlined policies that are being proposed.
Cargill was here in the Lower Yakima Valley for the Sunnyside Chamber of Commerce's monthly luncheon meeting, and explained the proposals are based on recommendations made last November by small business owners attending a statewide conference hosted by the Washington Policy Center.
The proposals are outlined in a 28-page booklet the policy center recently published, called "Lead the Way: Small Business and The Road to Recovery."
In terms of health care reform, the number one concern expressed by small business owners was in the field of medical malpractice reform. Cargill said Washington has the highest medical malpractice costs in the nation and that in turn translates to higher medical costs.
In response, Cargill said the policy center is proposing a $250,0000 cap for non-economic damages. A similar proposal in Texas has resulted in a 35 percent drop in the cost for medical malpractice insurance in that state, Cargill said.
Speaking of health care, Cargill said his agency is also pushing to allow small businesses to go across state lines to purchase insurance policies for their employees.
Cargill said the reason companies don't go to neighboring states is that Washington has 57 mandates that have to be included in employer-provided insurance plans, more than Oregon and Idaho combined.
The Washington Policy Center was called to testify on state policy 30 times during the legislative session earlier this year, Cargill said.
One continued area of concern, he said, is to bring a competitive balance to workers compensation insurance to break L&I's current monopoly.
That concern was also expressed in the booklet Cargill introduced yesterday. In it, small business owners also felt the U.S. government should refrain from proposed regulation of the internet.
Small business owners, Cargill said, are also calling for regulatory reform, canceling outdated regulations that are no longer needed and better accountability over major state agencies and their rules.
In terms of regulation, Cargill explained that small business owners are also calling on state lawmakers to not add state regulations on top of existing federal regulations related to the environment.
As for unemployment, the Washington Policy Center is backing small businesses in seeking a freeze on the number of options whereby workers can quit their job and still draw unemployment. Currently there are 11 options available for employees.
A two-tiered minimum wage rate is also proposed by the policy center, whereby younger workers or those with no experience would make less than minimum wage workers with experience.
Washington state needs small business to help with the economic recovery, Cargill said.
That recovery will be hampered, he continued, as long as the state has policies that are unfavorable to small business and do not call for greater fiscal accountability for state agencies and their employees.
Things could get worse before they get better, he added, noting that legislators will likely be called to a special session this summer because of an additional $470 million budget hole.