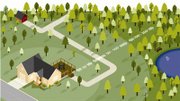 While Washington is expected to experience warmer and drier weather than the past two years, dryness is not the only factor that increases fire danger as lightning outbreaks are also a major concern.
Wildland/urban interface areas susceptible to lightning and experiencing these drier conditions are vulnerable due to the increased opportunity for fire to move readily between structures and vegetation.
"Homeowners should do all they can to protect their property and take charge of their own fire safety," says Washington State Fire Marshal Charles Duffy.
Structure protection in the wildland/urban interface is one of the most difficult and dangerous jobs for wildland firefighters and there is no guarantee that they will be able or available to protect individual homes. Addressing conditions within the Home Ignition Zone, the home and adjacent surroundings within 100 to 200 feet, largely influences the effectiveness of protection during a wildfire.
The Washington State Fire Marshal's Office offers the following suggestions to make homes and property fire wise.
Within 30 feet of the home, property owners should plant fire-resistant vegetation. Home owners should water plants and trees regularly to ensure that they are healthy and green.
Mowing the lawn regularly will also give some fire protection. Homeowners should prune shrubs and cut back tree branches to help, as well. The lowest branches should be six to 10 feet high and should not overhang any part of the home.
Within 30 to 100 feet from the home all trees should be spaced 20 to 30 feet between crowns to prevent fire spread. Officials recommend planting shrubs in small, irregular clusters or islands. The shrubs should be separated by at least two times their mature height. Homeowners should also create fuel breaks, such as driveways, gravel walkways and lawns.
Vegetation beyond 100 feet should be pruned and thinned of trees and brush.
To slow the spread of fire, dense tree groups should be thinned so canopies are not touching. It is also recommended that property owners remove heavy accumulation of woody debris, such as piles of stem wood or branches.