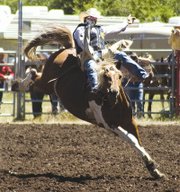 CLEVELAND - The 100th annual Alder Creek Pioneer Picnic and Rodeo this past weekend drew more than 300 entries from the Northwest Professional Rodeo Association (NPRA).
Those watching the action enjoyed the sun, the smell of dirt freshly kicked up from the livestock and the thrill of watching the cowboys and gals in the hunt for a prized buckle.
The opening ceremonies included 2010 Alder Creek Pioneer Picnic and Rodeo Queen Katelynn Clinton and rodeo royalty from around the northwest. 2010 Miss Teen Rodeo Washington Kelsey Gunnier of Toppenish was among them.
The events began with the bareback riding event, which was won by Gavine Cooper of Goldendale. He scored 85 points, out-riding Zeb McLean of Prineville, Ore.; Justin King of Washougal, Orlun McGuffin of Ellensburg; and Travis Scwerbel of Terrebonne, Ore.
The top saddle bronc rider was Jacob Stacy of Soap Lake. He earned the buckle, riding better than top ranked NPRA bronc rider Mark Gage of Redmond and Matt Urhausen of Kettle Falls. Stacy's score was 71, a great fete.
Scotty Bartels of Tacoma scored 81 points for the bull riding buckle. There were three sections of bull riding, including more than 12 other entrants. Bartels was ranked 11th in the NRPA standings going into this past weekend's event.
Ellensburg's Jason Minor earned the tie down roping buckle after finishing in 8.5 seconds. Ranked No. 4 in the NPRA, he competed against at least 10 others, including 18th ranked Sam Willis of Terrebonne, Ore.
Wrestling a steer is a difficult task, but B.J. Taruscio of Walla Walla made quick work of it, finishing in 4.6 seconds. He was faster than 15th and 16th ranked Michael Stevens of Prosser and Dick Whiteside of Kennewick, as well as seven other competitors.
In the team roping event there are two teammates working together, the heeler and the header. In 4.9 seconds heeler Riley Minor, No. 2 ranked, and No. 3 ranked header Brady Minor roped a calf for the buckle. Ten other teams were included in the competition Saturday.
Jennifer Casey of Mesa earned the buckle in 2.3 seconds in the breakaway roping event. She is ranked fifth in the NPRA standings and has earned more than $1,500 leading up to this past weekend's rodeo.
The barrel racing champion at the Alder Creek Picnic and Rodeo was Colleen Price-Clark of Wenatchee. She rounded the barrels in the arena in 17.74 seconds to earn the buckle, beating No. 2 ranked Sammy Jo Willis of Terrebonne, Ore.
The cow milking buckle was earned by Casey Arnold of Glenwood, Ore. He was able to control and milk a racing, bucking cow in 40 seconds for the win.
Winning the buckle for his all around performance was Shane Erickson of Terrabonne, Ore. He is ranked No. 8 as a team roping header and No. 10 in tie down roping.
All told there were more than 300 entrants the two-day rodeo at Cleveland Park, four miles west of Bickleton.