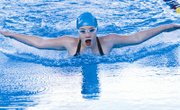 NACHES - The Grandview Neptunes and the Barracudas braved the cold last night in the two summer swim teams' first meet of the season in Naches.
The Barracudas powered past the Neptunes with the one-two punch of 14-year-old brothers David and Daniel Whitmore for the home win, 322-216. The brothers powered past the Grandview boys in all four 14&U individual events.
Despite absorbing the loss, the Grandview boys outscored the Naches boys by four points due in part to top finishes from Westly Lakins (10&U) and his older cousin, Micah Binfet (12&U).
Binfet came away with a win in the 50-yard fly, the 50-yard breaststroke and the 50-yard freestyle. He tagged the end of the pool nearly 10 seconds ahead of his competitors in both the fly and the breaststroke.
Lakins was able to outpace his competition in the 50-yard breaststroke and the freestyle events. In the freestyle, he edged Jett Black of Naches by nearly four seconds.
The Grandview girls were outscored by their Naches counterparts, 214-99, but not without a fight. Two of the Neptunes stood out with noteworthy efforts.
Kaitlyn Ott (8&U) clocked faster times than her competitors in the 25-yard fly, freestyle and backstroke races. Her best time was in the fly, finishing with more than a 10-second lead.
Samanta Castaneda (14&U) of the Neptunes earned top honors in the 50-yard fly and narrowly finished behind two different Naches competitors in the breaststroke, backstroke and freestyle events.
Grandview next will compete in its home pool Tuesday, June 22.
200-Yard Medley Relay
Girls 10&U
1st-Naches (A. DeVore, D. Lemieux, M. Simmons, T. Knight) 4:04.50
Girls 12&U
1st-Naches (A. St. Martin, O. Wells, K. Roberts, K. Cappa) 3:05.53
Boys 12&U
1st-Naches (J. Rothrock, Z. Zyskowski, M. Brown, I. Rice) 3:57.26
Girls 14&U
1st-Naches (M. Kosmatka, E. Knudson, J. Masovero, D. Black) 3:59.37
Boys 14&U
1st-Naches (D. Whitmore, D. Whitmore, J. Stanton, A. Brewington) 2:22.66
Girls 18&U
1st-Naches (M. McGill, T. Ranger, H. Davidson, K. Andringa) 2:32.42
Boys 18&U
1st-Grandview (D. Garza, F. Ruiz, J. Churchill, E. Escobar) 2:21.59
25-Yard Butterfly
Girls 8&U
1st-Kaitlyn Ott (G) 29.63, 2nd-Shelby DeVore (N) 40.27, 3rd-Hannah Kuehn (N) 41.63
50-Yard Butterfly
Girls 10&U
1st-Maggie Simmons (N) 58.87, 2nd-Cassandra Ruiz (G) 1:08.46, 3rd-Alexis Devore (N) 1:19.34
Boys 10&U
1st-Westly Lakins (G) 1:08.67, 2nd-Jonathan Flores (G) 1:46.00
Girls 12&U
1st-Kaley Roberts (N) 38.12, 2nd-Sierra Russell (G) 42.18, 3rd-Alex St. Martin (N) 42.82
Boys 12&U
1st-Micah Binfet (G) 43.26, 2nd-Malachi Bejar-Garcia (G) 53.18, 3rd-Orian Blanshan (G) 53.94
Girls 14&U
1st-Samanta Castaneda (G) 35.78, 2nd-Madison Trevino (G) 39.25, 3rd-Aaliyah Fonseca (G) 44.45
Boys 14&U
1st-David Whitmore (N) 30.54, 2nd-Daniel Whitmore (N) 31.06, 3rd-James Simmons (N) 41.03
Girls 16&U
1st-Micaela Clark (N) 33.09, 2nd-Rachel Andringa (N) 35.16, 3rd-Ashlyn Sehnert (G) 38.63
Boys 16&U
1st-Garrett Rice (N) 29.34, 2nd-Jared Churchill (G) 32.40, 3rd-Fabian Ruiz (G) 37.47
Girls 18&U
1st-Hannah Davidson (N) 36.57, 2nd-Taylor Ranger (N) 37.73, 3rd-Mylisa McGill (N) 46.69
25-Yard Breaststroke
Girls 8&U
1st-Shelby DeVore (N) 37.62, 2nd-Eve Rice (N) 59.86
Boys 8&U
1st-Jaxson Lakins (G) 39.46, 2nd-Kyle Mills (N) 41.47, 3rd-Riley Rothrock (N) 55.95
50-Yard Breaststroke
Girls 10&U
1st-Hannah Binfet (G) 1:00.93, 2nd-Maggie Simmons (N) 1:02.18, 3rd-Alexis DeVore (N) 1:09.73
Boys 10&U
1st-Westly Lakins (G) 1:09.24, 2nd-Austin Meluskey (N) 1:12.83, 3rd-Jonathan Flores (G) 2:09.48
Girls 12&U
1st-Kaley Roberts (N) 45.43, 2nd-Alex St. Martin (N) 46.55, 3rd-Sierra Russell (G) 49.40
Boys 12&U
1st-Micah Binfet (G) 41.80, 2nd-Tavian Valenzuela (G) 51.41, 3rd-Zachery Zyskowski (N) 56.42
Girls 14&U
1st-Madison Trevino (G) 47.19, 2nd-Drew Black (N) 49.53, 3rd-Amanda Marquez (G) 50.40
Boys 14&U
1st-David Whitmore (N) 36.38, 2nd-Daniel Whitmore (N) 40.09, 3rd-Brendon Lynch-McGhan (G) 46.73
Girls 16&U
1st-Rachel Andringa (N) 44.78, 2nd-Samanta Castaneda (G) 44.84, 3rd-Ashlyn Sehnert (G) 45.23
Boys 16&U
1st-Garrett Rice (N) 36.84, 2nd-Fabian Ruiz (G) 38.53, 3rd-Jared Churchill (G) 38.66
Girls 18&U
1st-Hannah Davidson (N) 43.44, 2nd-Taylor Ranger (N) 45.22, 3rd-Katie Andringa (N) 46.97
25-Yard Backstroke
Girls 8&U
1st-Kaitlyn Ott (G) 29.30, 2nd-Shelby DeVore (N) 30.06, 3rd-Meirabelle Brown (N) 44.03
Boys 8&U
1st-Angel Morales (G) 23.25, 2nd-Riley Rothrock (N) 39.55, 3rd-Kyle Mills (N) 47.13
50-Yard Backstroke
Girls 10&U
1st-Maggie Simmons (N) 55.22, 2nd-Alexis DeVore (N) 1:07.91
Boys 10&U
1st-Jonathan Flores (G) 1:26.87, 2nd-Macuen Streubel (G) 1:34.70
Girls 12&U
1st-Kaley Roberts (N) 40.62, 2nd-Sierra Russell (G) 47.84, 3rd-Natalee Oxley (G) 47.96
Boys 12&U
1st-Jacob Rothrock (N) 58.02, 2nd-Malachi Bejar-Garcia (G) 58.65, 3rd-Ian Rice (N) 1:03.44
Girls 14&U
1st-Alex St. Martin (N) 44.70, 2nd-Amanda Marquez (G) 47.53, 3rd-Emily Knudson (N) 48.68
Boys 14&U
1st-Daniel Whitmore (N) 36.75, 2nd-David Whitmore (N) 37.43, 3rd-Andrew Brewington (N) 43.81
Girls 16&U
1st-Micaela Clark (N) 39.03, 2nd-Samanta Castaneda (G) 40.87, 3rd-Rachel Andringa (N) 42.50
Boys 16&U
1st-Garrett Rice (N) 33.66, 2nd-Aaron Schmitt (N) 35.90, 3rd-Jared Churchill (G) 37.02
Girls 18&U
1st-Taylor Ranger (N) 37.39, 2nd-Katie Andringa (N) 40.91, 3rd-Mylisa McGill (N) 55.90
25-Yard Freestyle
Girls 8&U
1st-Kaitlyn Ott (G) 28.52, 2nd-Shelby DeVore (N) 31.72, 3rd-Kelly Knight (N) 35.42
Boys 8&U
1st-Kyle Mills (N) 25.69, 2nd-Angel Morales (G) 29.15, 3rd-Braden Stanton (N) 31.73
50-Yard Freestyle
Girls 10&U
1st-Maggie Simmons (N) 50.33, 2nd-Cassandra Ruiz (G) 51.34, 3rd-Alexis DeVore (N) 1:00.78
Boys 10&U
1st-Westly Lakins (G) 57.63, 2nd-Jett Black (N) 1:01.13, 3rd-Austin Meluskey (N) 1:01.97
Girls 12&U
1st-Kaley Roberts (N) 34.16, 2nd-Natalee Oxley (G) 37.25, 3rd-Alex St. Martin (N) 37.53
Boys 12&U
1st-Micah Binfet (G) 34.20, 2nd-Tavian Valenzuela (G) 41.82, 3rd-Luis Valdez (G) 46.57
Girls 14&U
1st-Madison Trevino (G) 35.33, 2nd-Aaliyah Fonseca (G) 39.19, 3rd-Emily Knudson (N) 40.91
Boys 14&U
1st-David Whitmore (N) 29.79, 2nd-Daniel Whitmore (N) 30.38, 3rd-Justin Stanton (N) 32.72
Girls 16&U
1st-Micaela Clark (N) 29.74, 2nd-Samanta Castaneda (G) 33.09, 3rd-Rachel Andringa (N) 35.16
Boys 16&U
1st-Fabian Ruiz (G) 25.65, 2nd-Garrett Rice (N) 27.91, 3rd-Jared Churchill (G) 28.52
200-Yard Freestyle Relay
Girls 10&U
1st-Naches (Names unavailable) 3:42.20
Girls 12&U
1st-Naches (A. St. Martin, O. Wells, K. Cappa, K. Roberts) 2:50.99
Boys 12&U
1st-Grandview (M. Binfet, J. Torres-Perez, M. Bejar-Garcia, D. Diener) 2:46.08
Girls 14&U
1st-Naches (D. Black, M. Clark, J. Masovero, A. Rice) 3:55.11
Boys 14&U
1st-Grandview (J. Churchill, D. Garza, F. Ruiz, E. Escobar) 2:10.10
Girls 16&U
1st-Naches (Names unavailable) 2:26.63
1 Jennie McGhan 6/16/2010 2:26 PM