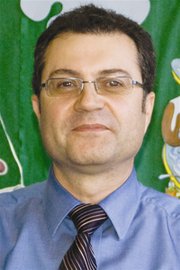 Francisco Garcia-Ortiz has been branch manager at the Sunnyside Library for almost two years, but this past June 7 he began a new job with Yakima Valley Libraries.
A native of Granada, Spain, Garcia-Ortiz moved to the Yakima Valley after his American wife, Stacey Beasley, confessed to missing the United States.
Garcia-Ortiz began his career with Yakima Valley Libraries at the Granger branch working as a part-time supervisor; a job he was more than qualified to perform as Garcia-Ortiz had already earned his PhD in Library and Information Science.
In August 2008, Garcia-Ortiz accepted the branch manager job in Sunnyside.
"It was my first full-time job in the United States," he said.
During his tenure, Garcia-Ortiz oversaw several significant changes and developments at the Sunnyside Library.
The Sunnyside Library meeting room was rebuilt, a circulation desk was installed along with new computers, energy saving lights and self-checkout stations.
Garcia-Ortiz calls the changes "beautifying the library."
But he is most pleased with the programs he helped establish.
He began with a program called, "Let's talk in English." As an English learner, Garcia-Ortiz understood the significance of using the language to learn it.
"The only way to improve your spoken English is to speak it," he explained.
He has also established family movie time every Saturday at 2 p.m., a chess club, and Lapsit, a sort of study time for babies.
Last fall, Garcia-Ortiz oversaw a six-week Benjamin Franklin touring exhibit. It kicked off in October and closed on Dec. 4. Each week featured demonstrations, movies, story time, lectures and discussions meant to bring adults and children together to learn about the famous scientist, diplomat and politician.
Garcia-Ortiz's new job will be as Technical Services Manager, a position he once held in Spain. The bulk of his time will be spent at the Yakima Library, where he will oversee the ordering and distributing of new books to the 18 Yakima Valley Library branches.
For now, the job left vacant by Garcia-Ortiz will be filled by Marcelina Ortega, a 22-year veteran of the Sunnyside Library.
There is a final farewell planned for Garcia-Ortiz this Thursday, June 17, at 2 p.m. Guests are welcome to join in sharing some refreshments as they bid Garcia-Ortiz goodbye.
The refreshments will be provided by the Sunnyside Friends of the Library and the Sunnyside Library Staff.