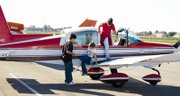 Back for a second consecutive year, the Sunnyside Municipal Airport will again be the site this coming Sunday for the Young Eagles organization to offer free flights to children ages 8 to 17.
The program is organized by pilots of small planes in the Yakima Valley and is sponsored by the Sunnyside Daybreak Rotary Club.
This year's event will be from noon to 5 p.m. on Sunday, June 20.
Amber Hansen is the Port of Sunnyside's executive director and a member of the Daybreak Rotary. She said last year's flight event featured six pilots shuttling more than 90 youngsters for flights over Sunnyside lasting 15 to 20 minutes.
"The pilots would ask the kids where they live and then fly over their house," Hansen said.
Hansen anticipates about the same number of planes this year, most of which can carry up to two passengers each.
Hansen noted that a parent or guardian has to accompany each child to the airport and remain there until after the flight. She said parents must also fill out a registration form on site prior to their child's flight.
The day isn't just about getting up in the air, as each child will first visit a demonstration plane parked at the airport. Hansen said youths will learn about the plane's cockpit, dashboard and landing mechanisms.
"They spend a good 15 to 30 minutes with each group of children before they ever go up in a plane," she said of the pre-flight training.
Hansen said the Young Eagles program is a nationally recognized outreach by pilots to encourage children to explore flying.
"They do this on their own time, their own fuel," Hansen said of the pilots. "They love the flying and want to get kids interested in the avaiation field."
The demonstration plane and flights are available on a first-come, first-serve basis. In addition, volunteers from the Daybreak Rotary will be on site to assist with registration and to provide water.
For more information, call 839-7678.