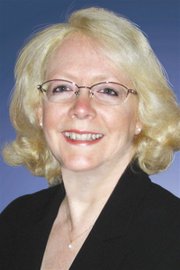 PROSSER - Mary Ruth Edwards of Prosser celebrated her candidacy for U.S. Representative in the 4th Congressional District with a campaign kick-off barbecue at E.J. Miller Park in Prosser this past Saturday.
Claiming Constitutional Party ties, Edwards is attempting to unseat long-time U.S. Congressman Doc Hastings (R-Pasco).
Edwards spoke on three issues which are the primary focus of her platform. They are to honor God, defend the family and restore the Republic.
"As a member of Congress I will work hard to make sure that all religious traditions are respected and treated equally, in so far as those traditions do not violate the rights of others," she told gathered at the barbecue.
Edwards said the country has seen the effect of a loosening of moral or ethical standards in the nation and pledges to work towards tightening the moral ethics of honesty, integrity and adherence to constitutional principles as she serves her term in Washington D.C.
"Every successful civilization has been built on the foundation of the natural family unit, consisting of father, mother and children," she said. "The society which respects and supports this basic institution will be strong.
"I have experienced firsthand the trials and tribulations of the destruction of the natural family and I am committed to making sure that any legislation I vote in favor of will support the family and not destroy it."
Telling her supporters the country has for too long witnessed the effects of ungodly politicians who have lost their moral and ethical bearings. She claims they do not govern, but instead they rule.
"They have worked tirelessly to remove God from our schools and public places," she continued. "In the name of not wanting to offend they have offended God and brought condemnation upon America."
She said these ungodly politicians have authorized money to be forcefully taken from those who work hard for it and then have re-distributed it to those who have not earned it.
She accused them of having worked to destroy the family unit using tax dollars to pay for abortion against the will of the majority of the people.
"They refuse to adequately defend our borders, forcing states like Arizona to pass laws to do the job which is a constitutionally enumerated federal power," she said. "They want to use tax dollars to buy themselves votes by succumbing to pressure to promote 'pork barrel projects' and legislation to benefit special interest groups, PACs, lobbyists and other organizations.
"They have bankrupted our nation," she added. "They have turned our country into something the Founding Fathers would not recognize."
Edwards said it is her ambition to use her influence as an American representing the 4th District to restore the Republic. She promised to remember that her decisions she will make while in office not only affect her, but her fellow Americans, future generations and the world at large.
Edwards broadcasts live on the internet every Thursday evening at 7 p.m. on www.flysighttv.com. Audience members can log in and interact with her via chat.