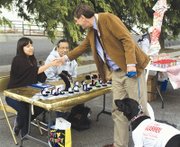 Glen Warren, a native of Grandview, has thrown his hat into the ring and will run for the position of Yakima County District Court judge position two.
Warren, along with his dog Sissy, made the rounds at the Sunnyside Farmers Market yesterday where he tried to drum up support for his campaign.
Warren grew up in Grandview and graduated from Grandview High School in 1969. After college and law school he finally settled in Yakima, where he has operated a private law practice for the past 30 years.
A District Court judge hears cases like DUIs, criminal misdemeanors, name changes, harassment cases, civil claims and small claims up to $75,000.
In his career Warren has handled million dollar personal injury claims. He also has experience in the courtroom with cases involving murder, burglary, rape and DUI.
"I've been doing what happens in District Court for 30 years," he said.
He has also been an arbitrator for Yakima County Superior Court for the past 10 years, dealing mostly with contract disputes and personal injuries.
Warren said he is seeking the position of District Court judge because he thinks he can make a difference.
"My mother told me I became a lawyer because of Perry Mason," he said. "I have always wanted to help people and I have been helping people for 32 years."
He said his extensive background in the legal system has given him the ability to know when a suspect is sincere or just spinning a yarn.
Warren said 90 percent of District Court cases involve drugs and alcohol and he would like to counteract that with behavior modification treatment rather than jail time.
Warren believes Yakima County needs a DUI court, more security in the courtroom and will generally encourage recovery through treatment.
Warren currently lives in Yakima.