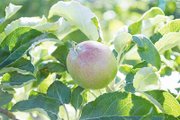 All over Washington state growers are biting their nails to see how greatly their crops have been impacted by cold, wet and windy weather conditions experienced in the past couple of months.
Brian Miller of the USDA Farm Services office in Yakima said, "Estimates of the overall impact on cherries are not complete in the Lower Valley."
He shared cherry growers are hopeful their fruit will be larger at harvest, but currently the impact of the weather is not fully known.
"Cherries were affected by freeze damage and poor pollination," Miller noted.
Dan Newhouse, director of the Washington State Department of Agriculture, shared his input as well.
He said the weather was too cold and wet for the bees to pollinate many of the area's crops.
"There has been varying damage (statewide)," shared Newhouse, stating some areas were more greatly impacted than others due to the maturity and variety of the fruit.
Miller said later (cherry) crops in Yakima County are not as damaged by splits as elsewhere in the state. The earlier varieties are hurt the worst.
Hay is the crop that has been most greatly affected, according to both men.
"The quality of the first cutting of hay is not as good...much of it was green-chopped and some farmers cut late," Miller noted.
Newhouse last week toured the Columbia Basin as a result of an invitation by the Hay Growers Association and said he witnessed "quite a bit of damage."
The quality issues associated with recent hay harvests is of concern to the growers and Newhouse.
"I imagine Lower Valley growers are experiencing similar damage to hay as those I visited," shared the state's top ag official.
He said 29 of the state's 39 counties have reported some level of crop damage and are seeking qualification for disaster designation.
"The spring was cold, windy and wet all across the state and industries are experiencing varying degrees of damage as a result," Newhouse continued.
He said asparagus crops have had low yields and tree fruit crops have had similar issues to the cherries due to pollination factors.
Miller said asparagus, however, is not through with its harvest. He stated the overall impact on the first crop harvested in the Lower Valley is not yet realized.
Some freeze damage, he shared, has been reported by grape growers. The vineyards may have lower yields and later harvests as a result of the spring weather, according to Miller.
Newhouse said the grape growers have also reported their crops have had a slower growth rate, and he believes the vineyards are at a greater risk for disease.
"The growers have a shorter (growing) window," he also noted.
Both ag officials said many of the growers will need to be cautious of crop diseases.
Hop growers, according to Newhouse, will not be as adversely impacted by the cool weather. But, they will need to be diligent in controlling fungus.
"Hops are behind and the conditions are ideal for disease...the growers may have to treat the crops with antifungals, but it is hard to predict just yet," shared Newhouse, a hop farmer himself.
He said he has forwarded information on to Gov. Christine Gregoire regarding various crop conditions. The information will then be sent on to Washington D.C. for disaster designation. Growers, as a result, may receive assistance from the federal government "probably in the form of low-interest loans," according to Newhouse.
He said, "We should know in about a month."