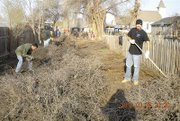 OUTLOOK - They have more community partners than they can shake a stick at, so now's the time for Outlook residents to either step up and become part of the solution or sit back and remain part of the problem.
A major revitalization effort is underway in Sunnyside's bedroom community of Outlook, which for years has been plagued with gang violence, poverty, unkempt homes and a drinking water supply that leaves much to be desired.
Spearheaded by the Northwest Community Action Center, an affiliate of the Yakima Valley Farm Workers Clinic, several community events have been planned for the next few weeks, all designed to help instill a sense of pride among those living in the Outlook area.
This most recent effort to propel Outlook onto the road to recovery starts next Monday, June 21, with a planning meeting. The get-together, which includes a free dinner for all who attend, will be held at Outlook Elementary School, starting at 6 p.m.
Petra Morales, the Northwest Community Action Center's case manager for Outlook, says now is the time for residents there to "Stand up for Outlook.
"It's time for Outlook residents to be a part of the community efforts to make Outlook a safe, healthy and vital place to live," said Morales.
She said the residents there have the support of many organizations and individuals, all wanting to see Outlook prosper. One of the most active community partners has been Yakima County Sheriff Ken Irwin's office. Educational Service District 105 has taken a proactive stance, too, as has such groups as the local school district, Comprehensive Mental Health and Sunnyside's Promise.
"We have lots of partners," said Morales.
The Monday, June 21, dinner meeting will be the seventh such community meeting held there. Planning discussions that night will focus on the Saturday, June 26, community-wide clean-up effort that is scheduled, as well as summer activities that can be arranged for local residents.
Morales said besides the free dinner next Monday night at the elementary school, Outlook families will be provided free child care services for those with tiny tots. Although it's not required, those families planning to partake of the meal are asked to RSVP by calling 837-3352 beforehand.
The Saturday, June 26, community clean-up effort will be held from 9 a.m. to 2 p.m. that day. Local residents there can either choose to spruce up their own homes and yards, or can attend a kick-off rally at the Outlook Church of the Brethren in the morning to volunteer their time and efforts.
Morales said free food will be made available to all participants following the clean-up chores.
Another event specifically designed for the younger residents of Outlook is scheduled for the last three days of this month, June 28-30. A free basketball camp for youngsters in the first through fifth grades will be staged at Outlook Elementary School.
First through third graders will attend the hoop camp all three days from 9 to 11 a.m., fourth and fifth graders will take to the gym floor from 1 to 3 p.m.
Morales said all participants will receive a basketball.
Parents must sign their children up for the free basketball camp no later than next Monday, June 21, in order to meet liability insurance requirements established by AAU. Sign-up forms can be obtained by contacting Morales (837-3352 or 509-305-9273).
An added bonus for the youths attending the hoop camp will be a special visit by members of the Allied Arts Association. Anna Marie Dufault, the Education Service District 105 Tobacco Prevention & Community Mobilization coordinator, said the youngsters will be exposed to the world of arts and crafts on the closing day of the camp, from 1 to 3 p.m.
The final day of the camp lunch will also be provided to all the children in attendance.