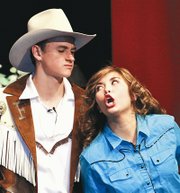 Seventeen-year-old Lainey Rodriguez of Sunnyside has been singing since she was six years old and last week her hard work was recognized by the 5th Avenue Theater in Seattle.
Rodriguez was one of eight young ladies in the state of Washington to be nominated for an Outstanding Performance by an Actress in a Leading Role 5th Avenue Theater High School Award.
This past winter, Rodriguez took on the role of Annie Oakley in Annie Get Your Gun at Sunnyside High School. Judges from the 5th Avenue Theater who attended her performance were so impressed they rewarded her with a nomination.
Rodriguez arrived in Seattle with her mother, Jane Hinkle, and 9-year-old sister, Lexie Rodriguez, on June 6, the night before the big awards show.
But Rodriguez did not have time to be nervous about the award. She had to be at the 5th Avenue Theater by 8:30 a.m. and, along with other nominees, she rehearsed for the awards show until 7 that night.
The eight nominees for Outstanding Performance by an Actress in a Leading Role performed a medley of their best songs and Rodriguez sang a minute of "You Can't Get a Man with a Gun" before an audience of 2,200 people.
"We were told that this year's female nominees were the best they'd ever had," Corey Murphy, Sunnyside High School's drama coach, said.
In the end, Rodriguez missed collecting top honors, which went to Tori Gresham from Eisenhower High School, but Rodriguez is not upset. She recognizes the talent among her fellow nominees and feels honored to be included among them.
Later, on June 10, Rodriguez and five of the eight nominees were guests on New Day Northwest on King 5 in Seattle where they performed their medley for home viewers.
The performance can be found on the New Day Northwest website.
Rodriguez has big plans for her career. She will soon sign with a management agency and is currently working on her second album, entitled Melody Lane.
"Performing is my passion," Rodriguez stated with excitement and enthusiasm in her voice.
But for now, Rodriguez is devoted to finishing out her high school career with director Corey Murphy.
This fall, the Sunnyside High School drama club will bring to the stage The Little Mermaid, and Once on this Island.
While the roles have not been cast yet, Rodriguez is preparing to put forth her best audition to win one.
"Lainey is a fantastic actress," Murphy said of Rodriguez. "I always know to expect a fantastic performance from her."