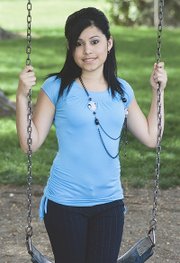 Because her grandparents live in Mexico and she doesn't see them often, Sunnyside High School student Tania Garcia feels it is important that elders in the community are recognized for their accomplishments.
With that in mind, she is vying for the 2010 Miss Sunnyside crown. Her community service project, if selected Miss Sunnyside, will involve spending time with elders at Sunnyside's Hillcrest Manor.
"I want to bake for them. I want to also play games and make other foods for the elders, as well as spend time with them," shared Garcia.
She continued, saying she wants to help the community's elders feel they are a vibrant part of the community, with much knowledge to impart on Garcia's generation.
"I want to give them a sense of value," the Miss Sunnyside candidate went on.
Garcia said she often thinks of her grandparents and longs to establish a relationship with the elders in the community, learning from their experiences.
There are other reasons she seeks the Miss Sunnyside title, as well.
"My primary objective is to work with the elderly, but I am a shy person by nature. I feel being Miss Sunnyside would give me the opportunity to break out of my comfort zone," Garcia shared.
She explained, stating the Miss Sunnyside court is exposed to numerous activities and events.
"The Miss Sunnyside court gets a lot of attention and is in the public a lot," Garcia continued.
"I would need to be more outgoing in unfamiliar settings," she noted.
Garcia is the second of six children. She is the daughter of Pedro and Jaquiline Garcia.
She has been a member of the Sunnyside High School track team and is exploring the possibility of playing volleyball this coming fall.
Garcia shared her goals in life, stating she dreams of attending Ohio State University, with the goal of pursuing a career in education or dentistry.
"I like science and math. I like to solve problems, finding out how and why an equation or element works," she shared.
For her talent at the Miss Sunnyside Pageant this coming September, Garcia said she will be performing a monologue.
"I think 'My Blankie' is a cute story and I like drama," she shared, stating she doesn't consider herself a gifted dancer or vocal artist.
"It's a happy story...I feel the audience will be entertained."
Garcia's sponsor for the 2010 Miss Sunnyside Pageant is Shear Designs.