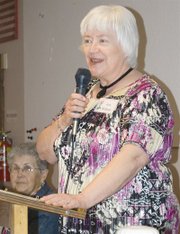 PROSSER - It was having her country home burglarized that made Lower Valley Christian Women's Connection guest speaker Lois Williams of Lacey realize what the real treasures in her life are.
She shared with those gathered earlier this week at Prosser's Barn Restaurant a story of hope and restoration when telling the story of the burglary.
Williams lived in the country with no nearby neighbors. "Our church, our work, our lives were in town," she shared.
One night she and her husband attended a meeting in town and they were tired on the return home.
"I had always considered how I would react if we found our home had a fire or a burglary," Williams shared.
The couple, however, arrived home and found their things had been tossed and personal items rifled through. A new stereo she had purchased was stolen, but the chord remained dangling from the window through which the perpetrators had exited the home.
"I wasn't as enraged as I thought I would be. I was in shock or something," Williams said.
Her husband and a sheriff's deputy conducted a perimeter sweep after the sheriff's department had been called. Meanwhile, Williams conducted a visual search of the home to find out what was missing.
She spotted a brown velvet box that contained her engagement ring. The box, she found, still contained the ring and she was grateful.
Williams told those at the Christian women's meeting the memories she had locked away were brought out into the open when the burglars struck.
She reflected on all that she treasured, as well as the sad memories of her younger years.
Williams, when she was a child, suffered the loss of her mother who had died of Polio shortly after the birth of Williams' twin sisters. Her father was unable to raise all six children left behind and the family was divided. The twins went to live with relatives, while the remaining four siblings lived with a grieving father.
"One day my sister and I were very naughty," she recalled, stating her father in his displeasure took measures of discipline that are forever a reminder of how severely he overreacted to the girls' behavior.
The memory left behind a wound that directed the lives of Williams and her sister from that point forward.
"My father threatened to take us to an orphanage," she shared.
Williams said her father packed the girls' belongings and drove them to the orphanage before "something snapped."
The harm, however, was done. The girls felt rejected and set out to prove they were worthy of love.
Williams shared her sister was driven and ambitious, setting out to excel in order to prove her worth.
Williams became an appeaser. She wanted to please everyone and had a desire to be "good," believing if others thought her "good" they would accept her.
While looking through some letters written by her husband that had been locked away before the burglary, Williams began to react to the correspondence. She began to realize deep within her that "the loss of material goods was secondary to the loss of relationships."
She told the women at the Christian Women's Connection she realized sin was separating her from God and a relationship with Him.
The deep meaning of her relationship with her husband opened Williams' eyes to her struggles and her failures in maintaining her relationship with God. She said, "I allowed sin to rob me of a relationship with Him."
That sin came from the inability to see God's love. She was blinded by a resentment of her father's actions and her perception of God as her earthly father.
Williams shared her father's vocation was being a preacher. He was a representative of God and she felt rejected by him, so she felt rejected by God.
The burglary, however, also revealed letters containing love from her father.
"I started to read the letters I otherwise was not in a place to accept until then," Williams shared, stating the letters from her husband and her father helped her to see she was a sinner in spite of her efforts to be "perfect and good."
That is when she began to take stock in the real treasures of her life and develop a relationship with God that hadn't been there before.
"I just had to believe...I had to take a leap in knowing His love," Williams shared.
Also at Tuesday's meeting several of those in attendance shared treasures of their own. Those willing to explain why an item or a photograph was special to them did.
Items varied from photos of great-grandchildren to a baby ring worn by both Wilma Martin and her husband, whose mothers were childhood friends.
Jeannette Werkhoven shared a Depression glass dish that was a wedding gift to her parents in 1936, and Hazel Newhouse shared a gift from a friend, which featured four little bears in a bed. She said the gift was special, representing days when she spent the night at her friend's home, sleeping in the same bed with four other girls.