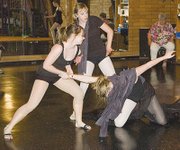 This past week, students at Martin's School of Dance have been diligently practicing their weekend recital at the Sunnyside High School auditorium.
Linda Martin and her students are preparing a collection of dance and music from a variety of styles.
The recital will begin with the Lower School program, which will feature 3-6 year olds in a performance inspired by Noah's Ark.
Two ballet performances will follow the story of Noah's Ark, including one entitled "Choices" with guest performers Devin Brown and Caleb Schlegel.
Following intermission, the audience will be treated to performances that include tap, jazz, clogging, hip hop and Irish dance.
An awards presentation will conclude the show, with Martin's School of Dance recognizing students for their years of training and dedication.
The dance recital at the SHS auditorium will be held on Saturday, June 19, at 7 p.m. and on Sunday, June 20, at 2 p.m.
Admission is $5 per person.