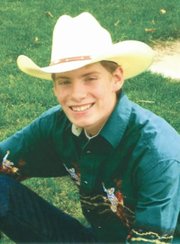 MABTON - Benton City native Cale Moon will be the featured guest performer at the monthly Gospel music jamboree hosted by Mabton's Grace Brethren Church.
A country boy adept at glorifying God with his life and music, Moon has won several gold medals at the Performing Arts world championships. Moon is currently under contract with Screen Artists Management, based out of Los Angeles.
The talented musician has written more than 30 songs in the last year, including collaborative efforts with renowned song writers Steve Dorff and Bobby Tomberlin.
This month's Gospel music jamboree at Mabton's Grace Brethren Church will be staged this coming Sunday, June 20, starting at 2 p.m. There is no admission charge for those who to attend.
Appearing with Moon this coming Sunday will be the musical groups Joyful Noise and Heartstrings.