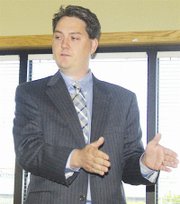 Barely a week after the candidate filing season ended, the Sunnyside Republican Club this morning, Friday, hosted two of the candidates for office.
One was Rand Elliott, an incumbent county commissioner who represents an area that includes the Lower Valley.
Elliott (R-Moxee) said he initially ran for and won election to the post four years ago by seeking a common sense approach to government.
At this morning's meeting at the Sunny Spot Restaurant, Elliott said he wants to continue that approach. He noted some of the common sense accomplishments in county government over the past four years have included consolidating the purchasing department with the city of Yakima.
Elliott said the decision has saved money by enabling the county and city to avoid duplicating staff.
He noted the county is looking at other ways to partner with local communities, like Sunnyside, as a way to cut costs at both the city and county levels.
Speaking of cutting costs, Elliott said the 2010 Yakima County budget was 2.5 percent less than 2009's. This summer, he said commissioners and county staff will have to look at cutting another 2.5 percent from the budget.
Elliott also repeated his pledge to Republicans that if elected he will not seek any tax increases without voter approval. "We have to live within our means," he said of county government.
The second speaker this morning was Bronson Faul, a non-partisan candidate for Yakima County District Court judge, position no. 4.
A former Republican precinct committee officer for the Terrace Heights area, Faul is a prosecutor for the city of Yakima and has also served in that capacity for Yakima County.
Faul, whose candidacy has the support of law enforcement groups and local state legislators, said his experience also includes serving as a pro tem District Court judge.
He said the experience of serving in the judge's chair gave him a different view of the justice system. It also resulted in his candidacy, as Faul said police officers and even defense attorneys encouraged him to run.
Faul says he is a pro-active prosecuting attorney. He told Republicans this morning that a judge's background has a direct bearing on how he will act and decide as a judge.
Faul says that's important in the district court seat he's seeking because 90 percent of the cases are related to crimes.
In contrast to his background as a prosecuting attorney, he noted one of his opponents in the district judge contest is a defense attorney, which he says means putting the needs of the client first.
Faul said judicial contests have not gotten as much attention as races for executive or legislative office.
That's a problem, he says, because in the past liberal backers have poured money into judicial contests. He said that has resulted in courts at all levels leaning to the left.
Both Faul and Elliott find themselves in a three-way race for office in the Aug. 17 primary.