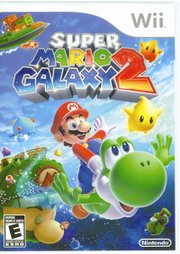 "First at Tammy's!" is what my sister would say as we walked home from elementary school. "First at Tammy's" refers to being the first to play video games at Tammy's house. Tammy's house was one of the only households in our neighborhood that owned a Nintendo Entertainment System.
My sister would almost always beat me to the punch and get to play their Nintendo first. One of the games we would play was Super Mario Bros.
Super Mario games have come a long way since then. I have recently played the new Mario game entitled, Super Mario Galaxy 2. It was released on May 23, 2010.
The sequel to Super Mario Galaxy certainly exceeded my expectations. As with the original, I enjoyed playing this new installment of the Galaxy series.
As with most of the Mario games this one starts with Princess Peach (Mario's sweetheart) being captured by the Evil Bowser, the arch nemesis of Mario. Then Mario, with the help of his friends, is off to save his beloved. This adventure takes Mario following his enemy through outer space.
Through the entire game you are in search of Power Stars. These stars provide the power for Mario's spaceship to advance through space. As in other Mario games you can find alternate endings to some of the levels. Some Power Stars and certain other items will open secret areas and/or levels.
There are check point flags inside of each level to mark your progress. Once you pass one of these flags you will return to that point in the level if you die. In the first Galaxy game if you died at any point in the level you had start the level completely over. This makes these flags a great welcome to novice players.
In this game you will see some familiar faces from the Mario series. You will also find some new friends and foes.
The characters Yoshi and Luigi are back for another adventure with Mario. Yoshi, Mario's fruit eating dinosaur, has new gameplay and power-ups. Yoshi can float, run fast, and glow with the different kinds of fruit he eats.
Mario's brother Luigi also gets to help find the Power Stars. Luigi can run a little faster and jump a little higher than Mario. But he is a little harder to control. In certain levels you can choose to play as either brother.
There are various new enemies to face and they become more difficult as you advance, but Mario also gets to use more powerful items.
Mario finds some new powers this time around. One power-up can create clouds in mid-air to keep you safe from falling into black holes. Mario can also turn into a boulder, roll over his enemies, and smash objects.
My favorite part of the game is that you can get help from a friend. In the first game there was a second player option but it was just a star shaped cursor on the screen and was very limited in what they could do. This time the second player runs alongside Mario as an orange Luma. Lumas are star shaped beings introduced in the first Galaxy game. This Luma can gather most items, freeze enemies, and even defeat some smaller foes.
This is a great game for kids and adults. Even if you haven't played the first Super Mario Galaxy, you can still enjoy playing the second one with or without a friend. This game is definitely worth the ride through space to rescue the princess and save the universe from the hands of the evil Bowser.
Although I don't have to challenge my sister for the right to play, I do have a wife and three kids to contend with. We'll see if they let me be the first to play the next Nintendo game we get.