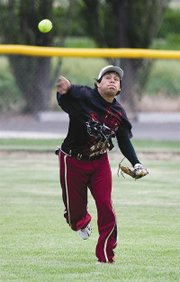 Just when it looked like New Era might cruise untouched through the Lower Valley Men's Softball Association's 2010 season, the Wild Boyz handed New Era its first loss.
The upset came on Wednesday night when the Wild Boyz gave New Era its first blemish via an 18-11 decision in the first game of a doubleheader.
Chris Longoria smacked two home runs to pace the Wild Boyz in the opener. Longoria was 3-4 in game one, while teammates Josue Garza and Dave Lara both went 2-4 at the plate.
New Era, which is gearing up for the Western World Championships in Las Vegas, Nev. later this summer, flexed its muscle in game two by pounding out a 13-1 victory over Wild Boyz.
New Era was led in game two by a pair of home runs off the bat of Lino Gutierrez. Joe Gutierrez was also 6-8 for the day to help New Era at the plate.
Bob Garza pitched game two for New Era, surrendering just one run on three hits in five innings of work. The second game was shortened to five runs because of the 10-run mercy rule.
PGC/Krush also found success this week in men's softball play, sweeping the Sunnyside Fire Department/Sunnyside Community Hospital team by scores of 20-8 and 25-12.
Steve Berg hit a home run to lead PGC/Krush in game one and smacked a two-run homer in the nightcap.
Also pacing PGC/Krush in game two were Johnny Zavala and Emmanuel Pedroza, who each hit a two-run homer. Joel Alvarado got the second game off to a good start for PGC/Krush by smacking a lead-off home run.
SL/Darigold and Team Impact/El Valle remained in contention as they split a doubleheader with each other earlier this week.
Dave "Chief" Palomarez paced TI/EV with three home runs and a 6-8 day at the plate. Anthony Palomarez was also 6-8 for TI/EV with a home run, and teammates Timmy and Gilbert Briones were 6-8 and 6-9 at the plate, respectively.
TI/EV won the opener 14-3 and led 10-3 in the second game before SL/Darigold rallied for a 17-16 victory in extra innings.
The winning run in game two came in the ninth inning when Bob Sarmiento Sr. smacked a base hit to score the decisive run from second.
There was one other doubleheader scheduled this week, last night between PGC/Krush and the Wild Boyz.
PGC/Krush's 12-11 victory in Thursday's first game is under protest, however, as the Wild Boyz team noted a player from a different team played for PGC/Krush. The action took place after two players from each team were ejected due to an altercation.
League coaches are scheduled to meet on Monday, June 21, to rule on the protest.
The second game between PGC/Krush and the Wild Boyz was canceled due to the weather.
LVMSA Standings
New Era 9-1
SL/D 6-4
TI/EV 5-4
Wild Boyz 6-5
PGC/Krush 6-6
SCH/SFD 0-10
NOTE: Standings, stats and scores are presented as reported by LVMSA coaches.