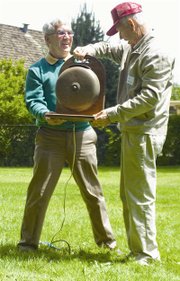 In the all the years since the pioneers of Sunnyside have been meeting in Sunnyside for their annual picnic, they have only been rained on once.
A second time was averted after rains came down on Friday night but by Saturday morning the sun was up and all was well for the Sunnyside Pioneer Picnic.
Pioneers came from all over to attend the annual event. The pioneer who traveled the furthest, Frank Cooper, came all the way from Austin, Texas. He left Sunnyside after graduating from high school in 1950. Along with attending the Pioneer Picnic, Cooper was also attending his 60th class reunion.
Two people competed for the title of oldest pioneer. Les Amundson and John Tanghe, both 90-years-young, shared the title. Amundson was able to claim oldest graduate of Sunnyside High School honors, however, having received his diploma in 1938.
A brief history of Sunnyside was presented by Bill Flower. He told the 100 or so pioneers about how the town used to be called Mayhew but was changed to Sunnyside after the land was purchased.
In those days, Flower said, in order to live in area known as Sunnyside, one couldn't drink alcohol, play cards and had to attend church on Sundays. Failing to do this resulted in the landowner losing his lot.
Two presentations were given. The old Sunnyside High School, where most of the visiting pioneers attended, has long since burned down but Pat Bleakney presented the old tardy bell from the school.
"This is the old tardy bell," Flower told the pioneers. "Back in those days they didn't hesitate to paddle you."
This caused some reminiscing about the days of paddles, three feet long and with holes in it.
"And it whistled," Don Means recalled of the sound the board made when it swooshed through the air on the way to target someone's behind.
The bell was dedicated to the Sunnyside Museum, as well as the cornerstone of the old Federated Church, which was saved by Frances Sonner and her brother.