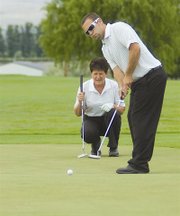 The father and son team of Dean and David Stokes topped the competition at the annual Parent/Child Invitational staged at Sunnyside's Black Rock Creek Golf Course yesterday.
A total of 22 two-person teams turned out for the Father's Day tourney, which featured 18 holes of Chapman play. Winners were based on net scores (actual scores minus handicap).
The Sunnyside duo of Dean and David Stokes sailed around the local links with an even-par 72, but with their handicap figured in netted a tourney-best, handicap-aided 63.75.
Of the 22 teams entered, the top eight earned pro shop gift certificates.
Runners-up in Sunday's tournament were Mark Strankman and his daughter Kristin, members of Meadow Springs Country Club in the Tri-Cities. The pair netted a 65.30.
The third through eighth place finishing teams included Mark and Jeremy Drollinger with a 67.15, Bill and Craig Boge with a 67.35, Greg and Heather Smith with a 69.70, Thomas and Jared Leighty with a 69.75, John and Tyler Cullen with a 69.85 and Tom and Sean Tudor with a 70.10.