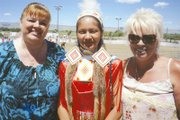 As far as sisters go, Carol Carrillo and Cheryl Cummings could not be more different. Never mind the fact that the two women are fraternal twins.
From childhood, Carrillo has been the caregiver, traditional and loving. Cummings, meanwhile, confesses to being the tomboy, a fighter and protector.
But when adversity struck Carrillo's life, it was her turn to become the fighter and Cummings' turn to provide the care.
The two women were born in Hadley, a town in upstate New York. Carrillo arrived five minutes before Cummings and together the duo would become a set in a total of five sisters: Cindy, Carol, Cheryl, Crystal and Connie.
They were the five C's, as their mother pegged them.
But at some point, and for different reasons, the five sisters were pulled away from their hometown.
At 19-years-old, Carrillo moved to Albany. A year later, Cummings followed her to the state capital, but the two pursued very different interests. Cummings was drawn to cosmetology and Carrillo, to business school.
When the two sisters left each other's company again, it would be to pursue two very different lives.
Cummings followed a friend south, to Texas. Carrillo went west to the Yakima Valley with her first husband.
Though the sisters went their separate ways, they maintained a close bond, claiming that phone calls were the best way to keep their connection strong.
In Texas, Cummings married, became a hairdresser and raised three children, Trey, Richard and Brittney.
She moved often, living in various places throughout Texas and Louisiana.
Meanwhile, in Washington, Carrillo was raising her three children, Katrina, Ashley and Johnathon.
The Yakima Valley welcomed Carrillo completely and she made a home here.
"The generosity; the support; the love. I've never lived anywhere where that was so abundant," Carrillo fondly says of Sunnyside.
But misfortune visited Carrillo's life when she began a painful divorce to her first husband. And though she would remarry, the stress from her first failed married followed Carrillo around.
But trouble did not really begin for Carrillo until February 2007, when Carrillo's stopped car was rear ended by another vehicle traveling 70 miles an hour.
"The rescue workers came to the emergency room to visit me," said Carrillo. "He said to me, by all rights, I should have come out of that care in a body bag."
But, the next day Carrillo returned to Yakima Valley Community College, where she was a student, and took her finals for the quarter.
This was the first sign that Carrillo was more of a fighter than she ever knew she could be.
But stress from the car accident continued to build and in September 2007, Carrillo suffered a major heart attack.
"I died," Carrillo reports, saying that the heart attack she suffered is referred to as "the widow maker."
Carrillo coded four times in the ambulance when she was being transported from Sunnyside Community Hospital to a health care facility in Yakima.
But Carrillo persisted. She continued school, though she would suffer four more heart attacks that fall, and in June 2008, Carrillo received her Associate of Arts degree in chemical dependency counseling.
Carrillo was even selected to deliver her classes' commencement speech.
It was Carrillo's plan to become a counselor, but her health would never improve to allow for it. Indeed, her health means that Carrillo is not allowed to do a lot of things.
With only a quarter of her heart still functioning, Carrillo can no longer do anything that might put strain on it. And so, Cummings flew in to take a little stress out of her sister's life.
On June 10, Cummings arrived at the Pasco airport with one goal in mind: to de-clutter Carrillo's life, literally.
Hoping to make her sister's life a little easier to manage, Cummings arrived to organize Carrillo's house.
"I came out of my bedroom at a quarter to 7 in the morning" Carrillo recalled of her sister's first day in Sunnyside. "The whole living room was painted, the furniture was all moved around...and she was working on the curtains."
Cummings woke up at 5 a.m. each morning to get to work on her sister's house. With love, care and fierce determination, the younger twin went into battle against Carrillo's cluttered home.
Starting in the living room, Cummings worked her way into the office and entryway, the kitchen and dining room, the laundry and the bathroom.
She organized and sorted through Carrillo's belongings, putting aside things she knew her sister did not need.
"I want to leave a house that my sister can manage by herself," Cummings said, knowing that Carrillo's heart could not take such a massive undertaking.
But Carrillo has already planned a yard sale for the items her sister has moved out of the house. It will be held on July 24, at 8 a.m. at 927 East Wooden Rd., off Cemetery Rd.
Cummings did more than just clean and remove clutter; she redecorated. With her own money, Cummings purchased paint, pictures, lamps, curtains, rugs and tables for Carrillo.
Though this is her first trip to the Yakima Valley, Cummings spent her week diligently working away, taking only one day off to take in the sights, when she and Carrillo attended the Treaty Days celebration near Toppenish.
Cummings returned home to Fort Worth, Texas on June 17, having spent her vacation helping her sister.
"She is the strong one," Carrillo said, "And she is always willing to take care of me."
But Cummings sees nothing extraordinary in the work she has done.
"You get out of life what you give into it," she explained, but it was clear that all Cummings wanted out of her week in Sunnyside was to see that Carrillo's life would be just a little easier to navigate.