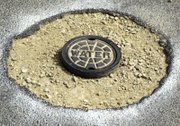 Sunnyside city street crews are busy replacing water valve boxes up on Harrison Hill, mainly on Riverside and Columbia avenues.
"We started working on this about two weeks ago," Sunnyside Assistant Water Supervisor Kirk Weets said.
The valves control the main water lines up on the hill and Weets said the old boxes are crumbing so they will be replaced with new ones.
Street crews are prepping the valve boxes by cutting out the old asphalt and then replacing them. The new boxes will be raised and then concrete poured around them.
The reason the valve boxes are being raised, Weets said, is because the city is getting ready to re-do the roads by chip sealing them. Raising the boxes will bring them up flush with the road.
Weets said there are approximately 50 water valve boxes to replace, 25 water valve boxes on Riverside Avenue and 25 on Columbia Avenue.