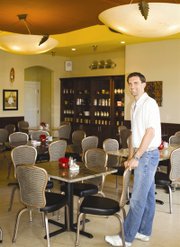 "We tried to fit as many things as possible in a little space," Chris Booth says of his new restaurant, The Green Olive Café and Espresso in Sunnyside.
The eatery and a salon next door were built by MJB Construction, owned by Booth's parents. Booth is a civil engineer for the firm.
"He wanted to do something for Sunnyside," Booth says of his father, John. "He thought it would be a good idea for the city to have another quality place to eat."
What the Booths have done is create a French/Italian themed café with a signature green olive on every sandwich.
Just as the Booths have packed something for everyone in the restaurant facility - including Vegas-styled sunken ceilings, a coffee bar, dining inside and out and even a well-appointed meeting room - The Green Olive MSG-free menu is packed with flavor for all tastes.
There are salads and classic deli sandwiches, as well as paninis, plus comfort food like hot turkey and roast beef sandwiches.
The Green Olive's signature sandwich, though, is the Muffuletta, a pressed sandwich made famous in New Orleans.
Booth credits Chef Russ Campbell for bringing the Muffuletta from the Bayou to the Lower Valley. The sandwich features smoked ham, salami, olive loaf, provolone and mozzarella all complemented by The Green Olive's own olive salad.
The Green Olive is about much more than sandwiches, though, as the eatery features a full breakfast Monday through Saturday from 6 to 11 a.m. and Sunday from 10 a.m. to 2 p.m.
The Green Olive's versatility is on full display during breakfast, with dishes ranging from the three-meat Carnivore omelet to biscuits and gravy to homemade donuts.
The Green Olive opened about two weeks ago and Booth said the restaurant is gradually gearing up to offer a dinner menu. The eatery is open until 7 p.m. Monday through Saturday.
Currently, the restaurant's full lunch menu is offered during dinner. In addition, nightly dinner specials are offered such as pulled pork sandwiches on Wednesday, lasagna on Friday and spaghetti on Saturday.
The Green Olive is located at 2926 Covey Lane, near the Best Western motel. The restaurant features a drive-up window and orders can be phoned in ahead by calling 837-9009. The restaurant also provides catering services.
Booth said a grand opening celebration is planned soon for The Green Olive.
The Booth family's effort "to do something for Sunnyside" will result in 21 new jobs for the community as the restaurant employs 11 people and the salon next door will hire 10 employees.
Though only open for a couple of weeks so far, The Green Olive has already received a good reception.
"Sunnyside has come out to support us," he said.