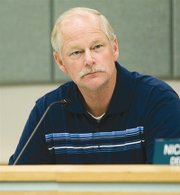 By a vote of 6-0, last night, the Sunnyside City Council ushered in a new era for landlords as they passed a crime-free rental housing ordinance.
Property owners who rent out their property in Sunnyside will now have to apply to the Sunnyside Police Department for a license. The annual residential rental housing license fee is $100 for the first residential rental unit and $50 for each additional unit, up to a maximum of $50.
These fees will be waived if a landlord agrees to participate in the Sunnyside Crime-Free Rental Housing program.
The program will be an active coalition of property owners, managers, residents and law enforcement with the goal of reducing crime and improving the quality of life for residents of rental housing.
The property owner, or their agent, manager and/or leasing staff, will receive workshop training that will include training on rental applications, rental agreements, tenant screening, evictions, Section 8 housing, working with the police, criminal activity identification, drug use in rental properties, gang activity identification and crime prevention through environmental design.
Public records will also be made available for review so property owners can review any criminal activities of potential rental applicants. A crime-free least/rental agreement addendum must also be added to all rental applications.
Each owner participating in the Sunnyside Crime-Free Rental Housing program must attend and complete the police department's crime-free rental housing workshop every two years. Proof of attendance must be provided within six months of the owners applying for a rental license in Sunnyside.
If any tenants engage in criminal activity on the property than the owner of the property must take steps to have that renter removed from the property. Failure to do so can result in the property owner losing their license to rent property.
Failing to secure or maintain a residential rental housing license is a misdemeanor punishable by a fine of up to $1,000 or by a jail sentence of up to 90 days, or a combination of both.
A few changes were made to the provisions to the ordinance that was presented to city council and the public last week.
Once change dealt with the rental owner's rights to dispute the police department's assertion that criminal activity has occurred on their property. The original document stated the property owner had three days to appeal to the police department but new language added now gives the property owner five days.
A provision was added to the ordinance that allows the property owner to reapply for a license if it is revoked. If a license is revoked for some reason, the revocation won't affect the rental agreement if it is set up for a specified period of time, as long as the tenant is in compliance with the crime-free rental housing ordinance.
The ordinance takes effect five days after Sunnyside Mayor Jim Restucci signs the document.