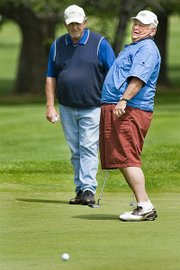 A first place finish at the most recent stop on the 2010 Columbia Basin Senior Golf Tour keeps the Black Rock Creek team atop the standings.
The three-time defending tour champion Black Rock Creek squad, competing on its home course, easily dusted the competition at the most recent stop. The Lower Valley team tallied a match best score of 754, 25 strokes better than the next closest finishers, the team from the Pendleton Country Club. Three strokes back of the Pendleton team in third place was the Columbia Point squad.
To date, Black Rock Creek has amassed 72 points in the senior tour standings. The Pendleton Country Club is a close second on the leader board, however, with 69 points. Rounding out the top seven teams heading into today's tour stop at Yakima's Apple Tree Golf Resort are Columbia Point with 61 points, Desert Aire with 55.5 points, Canyon Lakes with 48.5 points, Horn Rapids with 47 points and Sun Willows with 43 points.
In winning top honors recently at the Black Rock Creek Golf Course stop, the home team was led by Grandview's Tom Diener. He carded a 4-over-par 76, the second low round posted that day from among the more than 100 golfers who competed.
The next four lowest rounds from among the Black Rock Creek contingent were an 82, 86 and a pair of 87's, tallied by Al Sandlin, Phil Luther, Gene McIntire and Doug Veach, respectively.
Sandlin's round of 82 was six strokes below his scoring average, giving him low net of field honors with a 66 (actual score minus handicap).
Also shooting below their scoring averages were Black Rock Creek's Art Pittillo and Bob Hicks, who netted a handicap-aided 70 and 71, respectively.