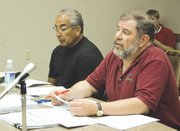 GRANDVIEW - The good news is that the city of Grandview expects to save about $60,000 this year by not having a permanent city administrator.
The bad news is that cost overruns in other areas mean the city will likely overspend its 2010 current expense budget by $85,670.
That's according to a budget update provided to the city council last night, Tuesday, by City Treasurer John Myers.
In fact, only two of the seven budget areas presented last night are expected to end the year within the original 2010 budget.
Myers said more has been spent on police overtime than at this point last year.
He also noted there have been additional costs this year in areas such as water and sewer, as the city is undergoing improvements and at the same time had to spend nearly $50,000 to fix a broken sewer main.
Of particular concern, though, is that at the current rate of expenditure the city's law and justice tax fund will be nearly dried up.
Grandview started 2010 with $37,000 in the account, which is funded by a three-tenths of 1 percent sales tax. At the current rate of expenditure, the city will have just $1,300 left in the account at year's end.
The city expects to receive $200,500 in law and justice tax money this year.
Myers said the city pays wages and benefits for 2.5 police officers through the law and justice money.
As for the police overtime, he noted for example that $16,000 was budgeted for overtime related to police investigations. With the year less than halfway over, the city has already spent $19,000 on overtime for investigations.
In addition, Myers said in less than six months Grandview has already spent its $10,000 budget for graffiti control.
Police overtime is also above budgeted expectations for patrol and block watch programs.
Councilman Mike Bren said the city needs to be more realistic in setting its budget goals. He said the blame isn't on the police department for the higher than expected rate of overtime, but rather on programs the department has to staff.
Interim City Administrator Cus Arteaga indicated the city may at some point need to re-evaluate some of its police programs, such as the SWAT team. Arteaga noted members of the SWAT team train during overtime hours.
Bren added that the county or other cities may also have SWAT teams and expressed interest in possibly partnering with other municipalities as a way to save money.
After last night's meeting, Myers said the city may eventually have to consider a combination of police cuts and program or service reductions elsewhere in the city budget in order to live within its means.