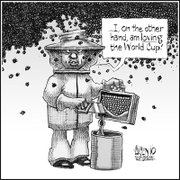 A good showing in the World Cup by the United States will not launch soccer as a major sport in the U.S. anymore than the 1980s "Miracle On Ice" Olympic hockey gold medal made ice hockey mainstream.
If the American soccer team gets out of the first round, it will increase interest in the World Cup, but that will not lead to all that many people becoming Major League Soccer fans.
Soccer will stay a sport played at some point by most kids, but one that remains a fringe TV property at best. This is, of course, because soccer, no matter how much you sell it or how well you know the game, is essentially boring.
Americans already have baseball, our own slow moving technical sport where long periods of nothing much are offset by short bursts of activity. Baseball games at least offer the possibility of high scoring and being down 2-0 does not represent a nearly insurmountable lead.
Admittedly, the World Cup transcends soccer. It's exciting to root for the United States in a sport where we don't dominate. That's why we all watch Americans in the Olympics, but none of us attend local pole vaults or luge races.
The World Cup offers a story line that makes the game matter even though the actual games are mostly dull. That's probably why the Europeans who seem to love soccer gather to watch it in pubs where there's beer and other libations that turn a 0-0 tie from "dull" to captivating.
I also find the argument absurd that Americans don't become soccer fanatics because we don't understand the game. As a former high school soccer goalie, I understand the game just fine. I also understand that it's fun to play, but not fun to watch.
High level soccer involves almost no scoring and very few shots on goal. Most of the "action" involves passing, long kicks and the ball going out of bounds. There's limited physical contact (at least compared to football) and the giant field makes following the action - even on HDTVs - a bit of a challenge.
As each World Cup comes around - at least the ones where the United States qualifies - the American media does the same lazy stories about how perhaps a good showing by the U.S. side will ignite the sport in this country. They usually couple these stories about how Major League Soccer hopes to capitalize on this interest and how youth leagues are bracing for an explosion of new players.
The same thing happens every four years during the Olympic hockey tournament yet hockey, like soccer, remains a marginal sport. Singular televised events like the World Cup do not change overall behaviors of the public at large.
Would we see a huge explosion in horse racing fans if we got a highly viewed Triple Crown winner? Did Lance Armstrong's unprecedented wins at the Tour de France ignite a U.S. passion for competitive cycling?
Of course not and we should not expect differently. Enjoy the World Cup. Cheer on our boys and hope we can shock the world, but, please, stop the media hype on soccer. We won't like it more once we get exposed to it. We'll like it exactly the same and maybe a few more kids will play the game.
The United States will never be Brazil or Italy where the fortunes of the national soccer team set the tone for the nation. Soccer won't ever be bigger than baseball or football, in fact, it won't ever be bigger than hockey or Ultimate Fighting. The sport might catch Arena Football or get more popular than the Winter X Games, but that's as far as it will go.
- Daniel B. Kline's works appears in more than 100 papers weekly. He can be reached at d@notastep.com