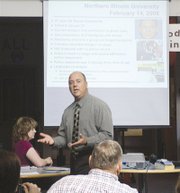 Michael Marro from Fairchild Air Force Base in Spokane spoke to Sunnyside teachers this Monday about the very real threat of workplace violence.
He is one of several guest speakers at this week's Sunnyside Summer Institutes, a series of workshops designed for educators to earn college credits.
Planning for violence in the workplace, explained Marro, is tricky. No two events are the same and an ideal plan for one school may not be quite as effective for another.
Marro discussed the active shooter scenario with the teachers, revealing that there are five stages a potential active shooter goes through. Teachers and co-workers should pay attention to the signs to prevent a tragedy.
The first stage is fantasy. It is during this time that writing, drawing or talking about violence is often disregarded as not being serious. But Marro emphasized that behavior like this can lead to more. People who fantasize about destruction should receive help.
The next stage is planning. A potential active shooter may begin to collect information about a location and decide on a time for attack. He will allow his plan to evolve and decide on weapons for attack.
Another person may join a potential active shooter at this point, which can be extremely dangerous. The two can feed off each other and find support for their intended mayhem.
Preparation begins after planning. This is where an active shooter will begin to practice with weapons and assemble devices. He may visit the site of his intended attack and gather floor plans and make sketches of the location.
What he cannot buy, he will steal. He is becoming suspicious and can be apprehended before his attack if attention is called to him by concerned citizens.
In the approach stage, said Marro, he is very dangerous. The active shooter will be carrying weapons and ready to engage his targets.
"He'll be in the zone," explained Marro. "A robot, with only one programming: to kill."
The implementation stage is when the active shooter finally opens fire.
"At this point, seconds count," Marro said.
Prevention is a critical piece to saving lives, but anyone who finds themselves in this scenario must be prepared to make hard decisions.
The first step to survival is finding cover. Finding cover does not mean hiding behind bookshelves or under desks.
"Bullets fly through bookcases," Marro said.
Instead, he suggests finding a room that can be locked on the inside and barricade the door with desks and chairs. Stay away from the window and doors and do not open it for anyone.
"Opening the door for one person in the hall could mean sacrificing the lives of the 20 people with you," Marro explained.
People who find themselves in open areas and unable to reach a locked room need to evacuate the area. Marro told the teachers to seek out shelter away from the location of the active shooter, be it a store down the street or a church nearby.
The next step to surviving is communication. He emphasizes that people shouldn't call 911 unless they have pertinent information that will help stop the active shooter. Any other calls will simply jam the phone lines and prevent important information from being passed to law enforcement.
Disregard fire alarms. Pulling a fire alarm, said Marro, could be a rouse to get people out in the open. Ignore the alarms unless there is clearly a danger from smoke or fire.
Marro emphasized the use of plain language in situations like this. Using codes can be confusing and not everybody will understand them. Vocalizing exactly what is happening is the best way to keep important information flowing.
Keep the doors locked until police officials arrive to release you, said Marro. Do not open the door for anyone who cannot positively identify themselves as a law enforcement officer.
Finally, mitigate. As a final resort, and only when their life is in imminent danger, people can take action. Attacking an active shooter with whatever is available can confuse him and ruin his plans. Anything and everything can be a weapon when faced with a shooter.
The way law enforcement responds to active shooters varies from one location to the next, but they will actively seek out and attempt to eliminate the threat.
During the Columbine High School shooting in April 1999, the Littleton, Col. police department secured the parameter of the school, containing the shooters and waited for SWAT to arrive.
Much has changed since then. The first goal of law enforcement, now, is to stop the active shooter.
Victims who come across police seeking out the shooter need to remain calm, keep hands visible and follow the officer's instructions.
The risk of an active shooter is very real, but Marro is working to ensure people know how to get out alive.
There has been a 200 percent increase in active shooters in the last five years, he said.
And while his plan to keep people alive during a shooting incident is important, he said it is critical that people learn to identify potential shooters before they can enact their deadly plans.