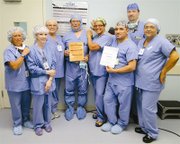 We've all heard the horror stories of medical procedures gone awry, the wrong limb or organ operated on or a surgical item left inside a patient.
Sunnyside Community Hospital has a surgical checklist in place to prevent those scenarios. The hospital's surgical teams are part of the surgical care and outcomes assessment program (SCOAP).
The program consists of a thorough checklist that starts with a meeting with the patient to confirm the procedure, patient approval and any concerns with allergies or potential airway restrictions.
According to hospital spokesperson Tom Lathen, the checklist confirms "that every team member knows what procedure is planned before a surgery begins."
But that is just one of four steps in the surgical checklist.
The second step involves surgical team members introducing themselves and again confirming who the patient is, the procedure and location of the procedure.
Also included in the second steps are specific reviews by the anesthesia, surgeon and nursing teams.
The reviews cover everything from making sure surgical instruments are in order to estimating the expected blood loss and the duration of the procedure.
There is a third step in the SCOAP checklist for those operations that are anticipated to last longer than an hour. In those procedures, Sunnyside Community Hospital surgical teams cover a list that includes providing an insulin protocol for diabetic patients and a re-dosing plan for antibiotics.
The checklist closes with step four, a post-surgical debriefing. For example, prior to closing the incision the surgical staff is required to make sure that instrument, sponge and needle counts are correct. The count is intended as a way to make sure no surgical items have been left inside the patient.
Also included in the debriefing is a review of what could have been improved in the procedure. If there is room for improvement, the step calls for a plan to address it.
According to the SCOAP website at www.scoap.org, Sunnyside's hospital is just one of two in Yakima County that participates in the program.