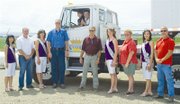 The new Sunnyside float truck may not be brand new, but it is a real gift; a gift to the Miss Sunnyside Program from a devoted, caring community.
The old float truck was pushing 40 years old, wasted too much fuel and required constant repair. It was becoming something of a safety issue and could not make long trips, forcing the Miss Sunnyside court to refuse entry into out of Valley parades.
It became clear that a new truck was in order. But the Miss Sunnyside Program is non-profit and self-sufficient. There was no way it would be able to purchase a new truck on its own.
In stepped that devoting, caring community.
Chris Gardner of the Miss Sunnyside Committee Board said the new truck was the result of the combined efforts of five very important local entities.
Les Schwab Sunnyside donated new tires to the new truck after it was purchased.
Ed Werkhoven and Valley Truck donated their time and energy to modifying it, which included removing a van body, shortening the wheel base and installing the bed from the original truck.
The purchase of the new truck was the result of the Yakima Valley Dairy Federation and Yakima Valley Dairy Women.
The Yakima Valley Dairy Women donated $250 to the project and the Yakima Valley Dairy Federation has donated funds, and is hosting and facilitating raffle sales for a trip for two to Hawaii.
The weeklong trip to Hawaii was donated by Rick Pedee of Valley Auto Parts.
The new truck cost approximately $15,000 and has an automatic transmission. It is expected that the new truck will cut the fuel bill in half.
The money saved from not wasting fuel or having to make costly repairs will mean more funds for the Miss Sunnyside Program.
"It really represents our community well when we pull into a city with quality equipment," said Gardner.
Raffle tickets for the Oct. 30 trip to Hawaii are still on sale and can be purchased by contacting the Sunnyside Chamber of Commerce or by calling Chris or Lori Gardner at 509-837-4046.
The drawing will be held at the Miss Sunnyside Pageant on Sept. 18.