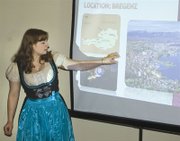 Hannah Vlieger of Sunnyside this past Monday shared with the Sunnyside Noon Rotary Club about her year of study on a Rotary exchange in Austria.
Vlieger, who spoke German while in Austria, noted the language has different dialects, depending on your location. The German spoken in the part of Austria she lived in, near the Swiss border, was different than the dialect spoken by Austrians who lived in the eastern part of the country.
Likewise, she added, natives of Switzerland and Germany have a different dialect of the German language.
She said the way around the potential conflict is that there is a "high German" that is generally understood among all speakers of the language.
Vlieger, who recently returned to the U.S., told Rotarians that it took a couple of months for Austrians to refrain from automatically speaking English with her. As someone who wanted to learn the official language of Austria, Vlieger said it was difficult at times to get past the stereotypes Austrians have of Americans as English-speaking only tourists.
Vlieger said Austrians also view Americans as being wasteful with resources, but that the U.S.A. pretty much provides the "cool" trends.
"They have seven different containers for recycling," she said of the Austrian trend toward thrift and conservation.
She says there's good reason for that trait among Austrians as they pay extremely high rates for their energy and have a tax rate that is 60 percent.
That tax rate, though, enables Austrians to have free health care provided by their country. "They're proud of their socialized health care," Vlieger said.
During her year in Austria, Vlieger was able to visit well-known locations in the country, such as Innsbruck and Salzburg.
Her travels included seeing damage still visible from World War II allied bombing. She said Austrians don't talk much about World War II, primarily out of guilt for the war and that it was their country which produced Adolf Hitler.
Vlieger also noted that Austrians are diligent about taking off their shoes when they enter a home. She said slippers are provided that are only worn in the house. Vlieger said the custom is due to an Austrian view that it's not healthy to wear shoes all day.
She said the custom also extended to the school she attended. "It felt like a sleep-over," she said of her first impressions of attending class in stocking feet.
Vlieger also noted the Austrian custom of all the family members sitting around the table for dinner. She said it is typical for the household to gather around the table for conversation as they share the meal together.
Not only was Vlieger a student during her Austrian stay, but also a teacher as she taught English to some young children.
The year in Austria has had an impact on Vlieger beyond her stay there.
She says she will study at WSU this fall and hopes to continue language studies, likely in Spanish.