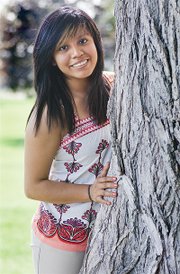 Yunuenn Garcia, a soon-to-be junior at Sunnyside High School, wants to make a difference in her community and help inspire other girls in the community to take a step away from the norm and try something different.
To accomplish this Garcia is vying for the title of 2010-11 Miss Sunnyside.
"I'm kind of stepping outside of my box by running for Miss Sunnyside," Garcia, a self-described tomboy, said.
She's into athletics, playing three sports in high school. She's been involved with wrestling and volleyball since the eighth grade and has played softball since the seventh.
The daughter of Asuncion and Marciano Aguilar was talked into wrestling by one of her friends.
"I was a little hesitant at first, but I liked it," she said.
She said the first week of wrestling practice was hard, very hard. So difficult in fact she wanted to quit. She kept telling herself that she would be gone by the next week, but somehow she stuck with it and has been grappling for the past three years.
"It's now my favorite sport," Garcia admitted.
Softball she's been involved with the longest but she wasn't able to play this past spring due to babysitting her little brother. Garcia is the oldest of three, which includes two brothers.
In school her favorite classes are strength training and English. She will combine these two in the talent portion of the Miss Sunnyside Pageant when she recites a poem she wrote describing the challenges of wrestling.
"It will be more like a skit," she said.
If she is honored with the title of Miss Sunnyside, Garcia said her service project will be working with Hillcrest Manor residents.
"I would like to go there on a weekly basis and interact with the residents," she said. "I think it will make a difference not only in our lives, because we can learn from them, but also in their lives. I want to talk to the elders, get to know them."
Garcia says she's not a shy person at all and is looking forward to riding in parades.
"I've never been in one," she said. "I think it would be cool to be on a float."
After high school Garcia is looking to study journalism and photography. She wants to combine the two and work as a photojournalist.
Her parents were a bit surprised she went ahead with her plans to run for Miss Sunnyside. She said they thought it was kind of funny, what with her being a tomboy and all. But, she added, they have both been very supportive.
But going against the grain is what she's trying to get other girls to do, as well.
"I hope to be viewed as a role model," Garcia said. "I want to show people you can do other things, you don't have to stick to one stereotype."