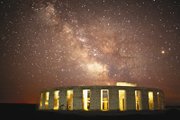 GOLDENDALE - Maryhill Museum of Art, located near Goldendale, is one of the Northwest's best kept secrets. In fact, when it opened 70 years ago, in 1940, TIME Magazine called it the "remotest museum in the world."
Even fewer people know that Maryhill Museum of Art is also home to North America's only full-scale replica of Stonehenge, a captivating roadside attraction overlooking the Columbia River.
But thanks to Portland photographer Ben Canales, the world may soon know a lot more about the museum and its Stonehenge Memorial, which was built between 1918 and 1929 as the nation's first memorial to honor soldiers killed in World War I.
On a recent photography trip through the Gorge and on the way back from the Goldendale Observatory State Park nearby, Canales captured four mesmerizing photographs of Maryhill's Stonehenge, silhouetted against the night sky and illuminated by the stars of the Milky Way.
"The region finally got a break in the cloudy, winter weather, so I had to get out and see some stars and try new photography techniques in capturing a deep starry night. I chose the Maryhill area because of its remoteness from light pollution, and Stonehenge because of its fascinating structure and visual interest that could complement the stars," says Canales.
"It turned out better than I imagined. Stonehenge is something that needs to be experienced with your own eyes, and hands and feet. It's bigger than you expect, and walking through it sets the imagination running wild," he says. "From a photographer's perspective, the symmetrical columns, doorways, towers and pillars provide endless compositional experimentation."
As Maryhill Museum celebrates its 70th anniversary in 2010, it ranks as one of the top museums in the Pacific Northwest, including the Portland, Tacoma and Seattle Art Museums and the Museum of Glass in Tacoma.
Pacific Northwest road builder and utopian Sam Hill famously said that he sited Maryhill "where the rain ends and sunshine begins." The Stonehenge replica, which Hill created as a tribute to local soldiers who lost their lives in World War I, is located four miles east of the museum. The location now also includes monuments to the soldiers of Klickitat County who died in World War II, Korea and Vietnam.
The original Stonehenge, a prehistoric monument constructed 5,000 years ago on Britain's Salisbury Plain, is a UNESCO World Heritage Site.
There is no admission fee to visit the Maryhill Museum of Art Stonehenge War Memorial, which is open daily from 7 a.m. until dusk; however, donations to its maintenance fund are always appreciated.